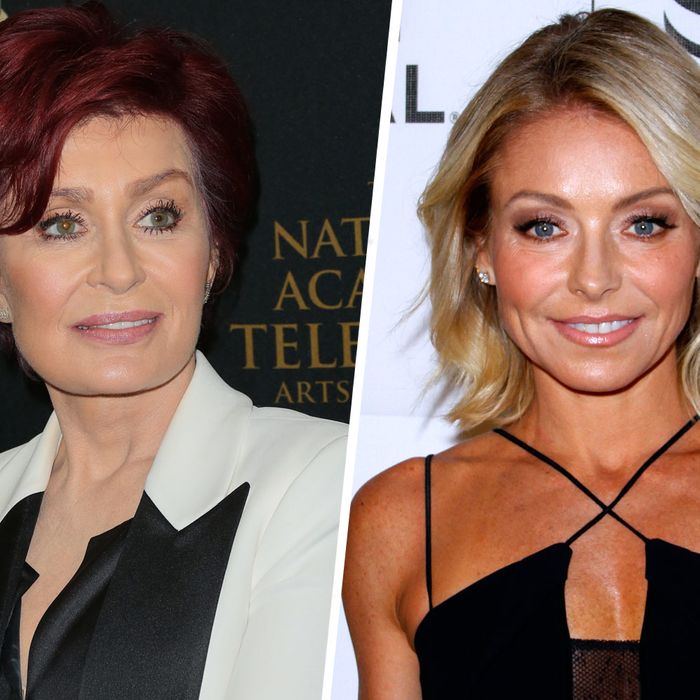 On Monday, Sharon Osbourne took a day off from her hosting gig at The Talk amid rumors of a split with husband Ozzy Osbourne. Addressing the "rumors and speculation that they have split up after nearly 34 years of marriage," co-host Julie Chen told the audience that Sharon "understandably" needed to take the day off. This marks the second time in the past few weeks that a female talk-show host has taken a day off for personal reasons. After being blindsided by news of her co-host Michael Strahan's departure from Live!, Kelly Ripa took a number of days off to chillax and read war books before returning to the show and concluding our "long national nightmare" (her words).
These absences are very different, but both are totally – to use Chen's word – understandable. When workplaces offer personal days to employees, it's with the understanding that they shouldn't feel obligated to come into work in the midst of a personal crisis. Sometimes, people have shit going on in their lives that is more important than doing their job that day. And yet, particularly with regards to women in the public eye, the decision to take a day off for a reason other than the death of a loved one still feels refreshing and instructive.
Ripa and Osbourne both knew that, given the intimate and confessional nature of their jobs, they would have to address their personal dramas when they came back to work. And so they stayed home until they were ready to return to air — which both ultimately did with poise and eloquence. Yesterday Osbourne, sipping a glass of #lemonade, confirmed that she was no longer living with her husband and spoke candidly about her marital uncertainty: "I don't know where I'm going, who I'm going with. And I just need time to think."
Ripa, similarly, said she had needed time to process Strahan's departure and the way the news was revealed to her, and spoke candidly about the importance of communication in the workplace. "I didn't want to say something I might regret," she explained of her absence. "I needed a couple of days to gather my thoughts. After 26 years with this company, I earned the right."
While there are only so many parallels that can be drawn between talk-show hosts and people who don't get filmed every day having their morning coffee, Osbourne and Ripa can be beacons to all of us who have ever sat sniffling through tears post-breakup/mid-breakdown, pretending to do our jobs while our minds were elsewhere. Given that crying in the office is widely frowned upon (particularly for female employees), and showing Emotions While Female is likely to get you branded a "diva" (or worse), personal days can be a much-needed emotional release valve.
In some countries, lots of things are considered more important than work: raising your kids, for one, or extended mid-afternoon naps. American culture claims to valorize self-care — expensive spin classes, sheet masks, kale in liquefied form — and yet approximately one in four U.S. workers has no paid time off, while 41 percent of those that do let their vacation days go to waste. I'm not saying that those of us who are lucky enough to have personal days and/or family leave and/or paid sick days should treat our jobs like pass-fail electives. But you'll be a better employee overall if you prioritize self-care as much as you prioritize answering emails at one in the morning (sleep queen Arianna Huffington agrees).
I'd even go so far as to say you don't need to be having a personal crisis to take a day off every now and again. Some of my fondest memories as a kid came from surprising disruptions in routine: being pulled out of school by my parents to go to a gallery or museum, or skipping class in high school to smoke in the woods go to a gallery or museum. The occasional day off can act like a reset button, a refreshing change of pace when the monotony of routine is getting you down. Think of it like a snow day, only maybe there's no snow. Take a bath! Get a pedicure! Read a book! Spend quality time with your kids! Ditch your kids and spend quality time with yourself! Ditch your inner self and spend time gazing into the formless void! There is (I assume!) something positively liberating about playing hooky from your job, a Ferris Bueller–esque freedom in temporarily opting out of the scheduled programming of adult life and engaging in a (very small, very contained) act of unscheduled rebellion.
If my superiors are reading this, know that I am totally committed to working between five and seven days every week and I will see you here tomorrow, same time, same place! But to you, dear Cut reader, I say: Don't be afraid to take a personal day. You may not be Kelly Ripa, but I'll bet you've earned it.