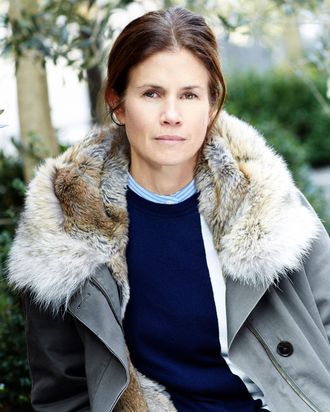 Gucci Westman is one of the world's most famous makeup artists. She did all of Drew Barrymore's Cover Girl ads, was the global artistic director for Revlon, is the lead makeup artist for shows like Proenza Schouler and Rag & Bone, and has done multiple magazine covers, including Vogue's February 2012 Taylor Swift cover. She's even made pasta in Napa with Drew Barrymore and Cameron Diaz. The newly pregnant Westman has a new partnership with SK-II and talked to the Cut about how she thinks women want to look today.
As a makeup artist, how do you feel women want to look today?
There's a lot of drive from social media, obviously. It's inevitable. I think women just want to find something that works for them, helps boost their confidence, get that thing that works, and then really nail it. Everyone wants to have gorgeous skin because it makes you look younger. They want to look natural, but beautiful.
We all have our things, like thinking you look better when you're more tan. But so much stems from feeling confident. Right now, I'm super inspired by the Gucci girl, because it is so sort of painterly and so beautiful. It's not serious, which is nice. I feel like it's less intimidating to be inspired by something that's a little bit eccentric. I saw this mad cool woman in Paris who had a full-on Gucci outfit, and she was in her 60s. At the moment, it feels very cool to be a character in your own way. I love the idea of a narrative and being inspired by that.
What do you think feels luxurious now in makeup or in beauty?
Well, SK-II's New Facial Treatment Oil feels like heaven. It is super luxurious when you can find an oil that is really effective, the texture is great, and everything about it is just super luxe. And I do like the multiple step of a skin-care routine. I'm a big believer. I like the idea of giving yourself a little massage. I do it to my husband at night, and he loves it.
In makeup, I'm super into lip gloss at the moment — a true lip gloss. I totally love the idea of that immaculate sort of liquid mouth, liquid skin. I'm really into those blushy tones with a gloss on top. It doesn't have to be a big blob, but I'm into that too. I think it's because it's been so long that I really just want to see gloss everywhere. Gloss was hated for so many years that now that we have to go back.
I don't want to keep banging on about Gucci like I'm being paid by them or something [editor's note: Despite sharing a name, Gucci isn't affiliated with the fashion label Gucci], but I think it's that idea of that girl who's playful and goes for whatever and wants to wear a glossy mouth. I don't even know if she has a glossy mouth in the ad, but I picture it in my head. It's about being polished, but what makes it modern is you're refined, but still not intangible. If your skin is super luminous and you don't have a lot of makeup on, then you have a little gloss of mouth, it's cool.
And the hair always looks a little bit undone.
Yeah, the hair's got to be undone a little bit. There's nothing worse than when you get your hair done. I feel so middle-aged. I did my hair yesterday because I did my roots, but the first day when you walk out, you look so silly. Or you feel like you're on a red carpet.
Sometimes you see the red carpet girls and you're like, Who sent them down there? Is no one going to brush those ringlets? You need to have your personal touch in everything to make it feel convincing.

With your celebrity clients, how do they want to look?
It depends on what it's for. If it's for a magazine, usually they don't have a huge amount of say, which is sometimes better and they appreciate it in the end, because they don't want to see themselves the same way again typically.
If it's for an event, you sort of want to make them feel super comfortable in their skin and on top of their game. But you need that level of trust. For example, I did Reese [Witherspoon] the other week. She went to a Tiffany thing and I was putting this lip color on her, and she said, "This lip color feels disgusting. What is this? It's so dry."
So I told her I wasn't done — I wanted to give her a good base so it stayed. I was using this really gorgeous Dulce color that's slightly an orange-y red, and she looked in the mirror and she said, "It's brown." And I was like, "Reese, you need to have your eyes checked."
Then she said she'd never worn this kind of color, and I said, "Good, that's why we're going to do it tonight."
Sometimes it takes a little bit of hand-holding. Afterward, she said, "I love it. Thank you for making me do that." Then some magazine gave her the look of the week for beauty! It's better to get out of your comfort zone. But that's why we're there as professionals, because they do want us to do something different.

There's red-carpet beauty, editorial, runway, and then social media. What do you think of the beauty you see on social media?
I think the nice thing about Instagram is most of it is aspirational. It feels like it's mostly positive. There's not a lot of negativity, and I hope it stays that way.
Oftentimes, you also get to see a real person doing something real on themselves in their own bathroom and have their guard down. Whenever I've done boomerangs with a mask, it's been really popular as opposed to the old-fashioned way of doing how-to videos. It's fun for people to see that as a professional, I make mistakes. I need Q-Tips when I'm doing liquid eyeliner. I need foundation brush for the eye shadow I spilled. It's kind of nice to see the vulnerability and the humility that you are exposed to on Instagram. It's fresh.
We get a variety on Instagram. We get the girl with bad skin who exposes herself to the world, shows everyone what she looks like really, and then takes it all away with makeup. So that's cool because we all have flaws and it's hard to show them, but it's nice for other people to know. It's nice because it's all about coming together.

Your eyelashes look great. I keep staring at them.
They do?

My friends are all getting eyelash extensions.
No! [Gasps] Tell them that looks so bad. Don't do that. I have to say that I did see one girl out of all the girls I've seen with eyelash extensions who looked good. One. The length is so fake. It's not flattering. It looks weird to me.

Volume's much better. Anytime you see a girl with eyelash extensions, it's not like, "She has beautiful eyes." It's "Her lashes are so long." I do not like them at all. I would say play with other stuff but don't do that. Put on some fake lashes — individual ones.

What are you into now in terms of wellness?
That is a really tricky question at the moment since I'm pregnant, but the class I normally do Taryn Toomey's the Class three times a week. It's the best exercise I've ever done. I hooked her up with everybody. Now, in L.A., she works with Jennifer Aniston, Gwyneth Paltrow; she's seriously amazing. I love that class so much, but it feels a little too hard with the pregnancy. There's a lot of jumping. But if I just don't do the burpees, then I feel really unfulfilled.
I just found a yoga person. I like hot yoga, but then it's too much on the belly. The heat isn't good for the dehydration when you're pregnant. Pilates, but you're not supposed to do a tremendous amount of abs. So I'm just going to go to prenatal yoga. Yesterday I walked from Chelsea to Tribeca but that still isn't enough. I have to do something.
I had really bad morning sickness for 16 weeks. Morning sickness is the dumbest name because it's all day long. You get this weird sensation where you get super nauseous, so you have to eat something, and then nothing helps. You just keep eating, looking for something. Nothing helps and you just feel awful. That lasted for four months, which is brutal.
If I go out for dinner, I'll have bread, but I'll try to have a lot of quinoa and greens and lentils. I try to be my normal self now that I'm past the puking stage. You see these girls that are so tiny and they're like, "I feel fine." You feel fine? Bitch. [Laughs]
I love sleeping too. I went to see Dr. Frank Lippman, and told him I was having really bad sleep at the moment. He gave me things like amino acids and calcium, and it's so good. My husband's like, "Those pills are amazing." One is called Nuracal, and that's calcium, and the other one is L-Theanine, which is amino acids. I'm big into all of those things.

This interview has been condensed and edited.