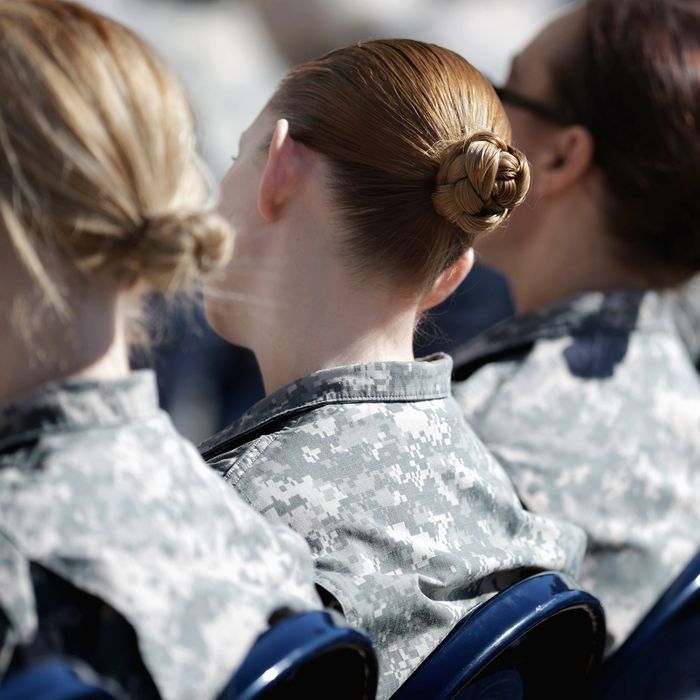 Photo: Chip Somodevilla/Getty Images
It's mostly a great time to be female in the military: All combat roles were recently opened to women, making officials reconsider male-driven titles (yeoman, yeowoman, yeoperson?). But to the top military officers who want women to register for the draft, that isn't happening (yet).
On Tuesday, House Republicans pulled a provision from an annual defense policy bill that would have required young women to register for a military draft like every 18-year-old American male. One GOP lawmaker called it a "reckless policy" requiring further study, while Democrats protested that Republicans were avoiding a vote on equality for women.
Meanwhile, another defense bill in the Senate includes a version of the draft provision for women, so this discussion is ongoing. Republican Senate Majority Leader Mitch McConnell voiced support for the move on Tuesday, saying: "Given where we are today, with women in the military performing virtually all kinds of functions, I personally think it would be appropriate for them to register just like men do."
If the draft requirement (set to start in January 2018) makes it through the Senate, it will go to a House-Senate conference committee. Right now the U.S. military recruits army men and women on a volunteer basis (the U.S. hasn't had a draft since 1973, during the Vietnam War). Hoping it stays that way?