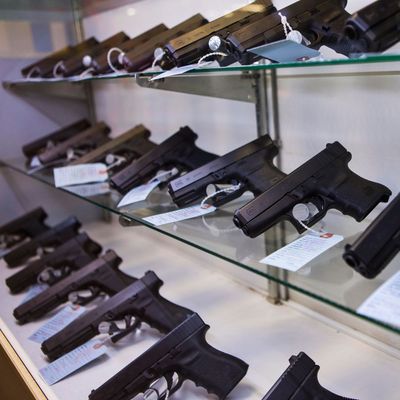 Photo: Anadolu Agency/Getty Images
From 2007 to 2009, a scary trend took hold in New Hampshire: a "spate of suicides involving a just-purchased firearm," as a team of researchers phrased it in a study published in Suicide and Life-Threatening Behavior, which recounts their subsequent prevention effort. What's unique, though, about this particular study, is the fourth author listed: Ralph Demicco, who hails not from any academic institution, but from Riley's Sport Shop, which sells handguns and other firearms in Hooksett, New Hampshire.
As Scientific American reports, this is a fascinating example of the public-health community working with – and not against – the firearm community. Cooperation with gun-shop owners was exactly what the researchers were hoping for when they launched their study, though they were somewhat surprised when they got it – a reaction that offended some gun enthusiasts. "A firearm instructor said, 'I could be insulted by that. Why do you think the firearm community would be less interested in preventing suicides than you would be?'" Elaine Frank, of Dartmouth-Hitchcock Medical Center in New Hampshire, told the magazine.
The project is not exactly an ambitious one. Frank and her colleagues wanted to make it "socially acceptable for relatives and friends to offer to hold on to a potentially suicidal gun owner's weapons until the crisis has passed," and so they designed and distributed posters and pamphlets saying exactly that to all 65 of the state's gun retailers. Their idea borrows from the social-science literature, which holds that for most – not all, but most – people who attempt suicide, it's a momentary crisis, and not something they've preplanned. As Scientific American's Nancy Shute writes:
Two thirds of those who survived a suicide attempt, according to one 1991 study, had started planning their course of action less than an hour beforehand. Another study notes that almost half of the 82 people who attempted suicide said they had started thinking about their current attempt less than 10 minutes earlier. Moreover, in the case of guns especially, an investigation by the New Hampshire medical examiner's office showed that nearly one in 10 suicides by firearm from 2007 to 2009 involved a weapon that was purchased or rented the preceding week — often within just a few

hours.
True, some will make another attempt. But most do not:
Instead, studies show, the majority of survivors die a natural death many years after failing to kill themselves. The period of greatest vulnerability seems to be in the first year after an attempt, a time when treatment for those who try to end their life is critically important, experts

 

say.
As Shute notes, about a dozen states have implemented similar public-safety campaigns. What's promising about the approach in New Hampshire is this: Six months later, about half of the shops still had the materials on display. A small step, sure. But it's still a step. The abstract for this paper, by the way, ends with the most hopeful sentence I've read in a while regarding guns: "Public health and gun groups can successfully collaborate on suicide prevention activities." Indeed, if this study is any indication, it seems they can.