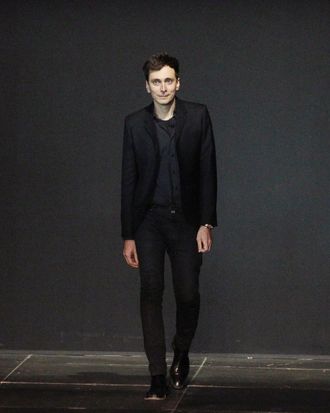 Hedi Slimane.
Photo: Antonio de Moraes Barros Filho/Getty Images
The tight-lipped Hedi Slimane finally answered the one question we've all been wondering: Has he ever been to Qatar? On Wednesday, the ex–Saint Laurent designer tweeted a statement from his lawyer denying rumors that he has been there meeting with investors to start his own line. "For the record, Hedi Slimane has never had in the past, let alone now, the intention or desire to launch a brand under his name," it said, "and therefore denies recent rumours (including in WWD) of alleged encounters with investors, in Paris or Doha, where Hedi Slimane has in fact never been."

Not quite the answer we were hoping for. The letter, which is the closest thing to a comment the designer has issued post-departure, also said that Slimane has retained a lawyer for his dealings with Saint Laurent parent company Kering, although the wording didn't make clear what dealings are taking place. But just so we're clear: Slimane has definitely not been meeting with any investors and has no plans to launch his own line.
What's next for him? Some are theorizing that it's a post at Chanel, because Karl Lagerfeld wore a jacket from Slimane's Saint Laurent collection to take his bow at the house's show in Havana. (Though, to be fair, Lagerfeld is a longtime fan and wearer of Slimane's designs. He even went on a diet to fit into his skinny Dior Homme looks.) Now we'll just have to follow Slimane's upcoming tweets as closely as we follow Kanye's.