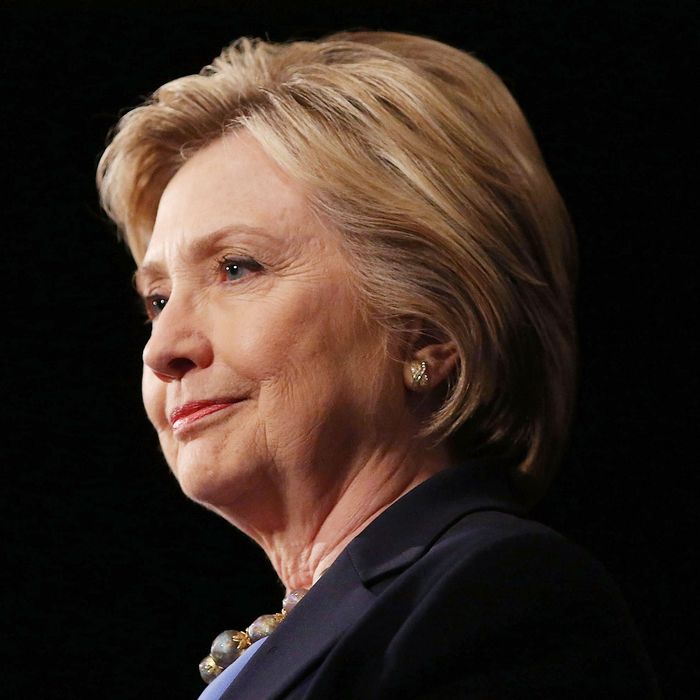 Hillary Clinton.
Photo: Spencer Platt/Getty Images
Last week, Pearl Love was reading a book on a New York subway when a passenger noticed she was transgender and started yelling a tirade of racist, nauseating insults. Everyone on the train stayed silent. Love filmed the upsetting incident and posted it to Facebook, and it quickly went viral.
"I started recording because I was scared," Love, who was commuting to a new job as an outreach social worker for Translatina Network, told ABC News. The woman stands up and lunges at Love before the video cuts out. She chased Love around the subway car, hit her, and emptied her purse before leaving the train, Love said. One person helped pick up her belongings.
More than 240,000 people have now seen Love's Facebook video. On Thursday night, Hillary Clinton watched and commented on the post, showing her support:
Pearl, I'm so sorry that you experienced this. The all-too-high prevalence of violence and hatred faced by the transgender community —  in 2016! —is a rebuke to all of us. Every single person deserves to be safe and live free from discrimination and cruelty, period. And transgender people need to hear from every one of us that you are loved, respected, and deserving of equality under the law. Know that you have my support, and I'm on your side.
Clinton is right: Transgender women of color like Love, who is Taiwanese, represented half of all victims of anti-LGBTQ killings in 2014. Anti-transgender hate crimes hit a record high in 2015. This year (so far) ten transgender people have been murdered.
"This kind of thing actually happens to me all the time to the point where I start thinking OK, this is normal, it's OK," Love told ABC. "But then I was talking to my friends and fellow sisters about it, and I realized this is not right. I want to help educate people and have people understand what we go through every day as trans people."