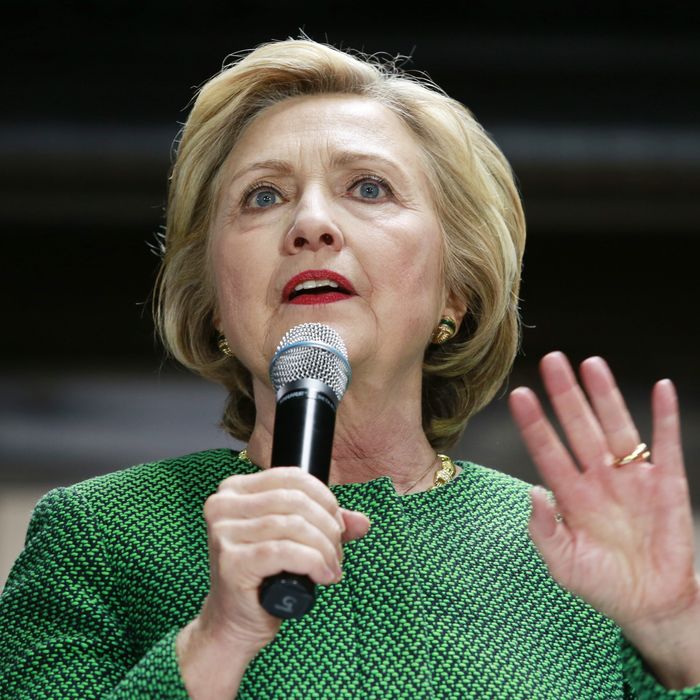 Hillary Clinton.
Photo: YURI GRIPAS/AFP/Getty Images
On the campaign trail yesterday in the still-contested primary election, would-be Democratic-presidential-nominee Hillary Clinton unveiled part of what could be a monumental new child-care plan for the United States.
Speaking at a campaign stop in Lexington, Kentucky, Clinton said that child-care expenses should be "capped" at 10 percent of a family's income. She also said that child-care workers' wages should be increased using a combination of state and federal funding. Though no details have been announced, the plan is ambitious and would, if implemented, represent a landmark step in making life just a little bit easier for working parents.
"That ought to be just a rule," Clinton said of the 10 percent limit, "and you ought to get help if you're getting close to that or going above that." Reports vary on what the average family pays for child care, and those costs vary widely based on where one lives, but it's estimated that some families, such as those in the state of Oregon, spend nearly 19 percent of their income on child care. Infant care is often the most expensive, and requires the most highly trained child-care workers.
In the U.S., where most mothers work and few have access to paid leave, it's a relief to see the national conversation incorporating these issues — even if doing so is supposedly playing the "woman card."