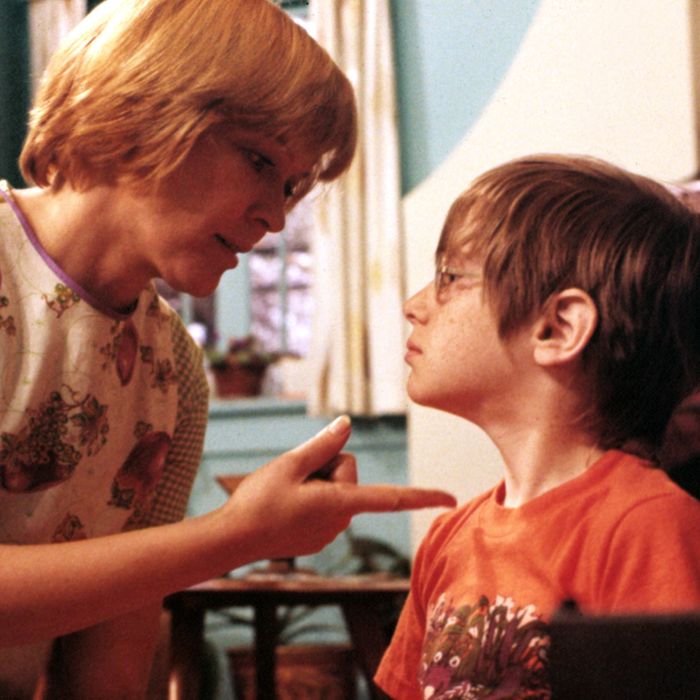 Ellen Burstyn and Alfred Lutter in Alice Doesn't Live Here Anymore
Photo: Courtesy Everett Collection
I once dated a man who screamed bloody murder at his own mother in front of me — plus my own mother. When I broke that relationship off, my mom and I whispered what we both had long known to be true: "If he treats his mom like that, how will he treat other women?"
The answer: Terribly.
So on my second date with my now-husband, I told him straight-up — half out of self-preservation, half out of fear — "I've always said, if you want to know if a guy is safe to date, see how he treats his mom."
"Is that so?" Pat replied with a smile.
He didn't get into it. I wondered if I had ventured into "Don't ask, don't tell" territory about his own relationship with his mom. So I set it aside.
But I knew it then and I know it now: A man who doesn't respect his mother is to be avoided at all costs (save for the ones who have overcome abusive moms, of course).
Then, a few months after we began dating seriously, Pat floated an idea that left me ecstatic — and nervous.
"I'm going to be traveling down to Atlanta to do comedy, and I was thinking maybe you could meet my family while we're down there," he suggested. I was thrilled, but I didn't get my hopes up too much.
"My mom's not in a good place," he warned me before we traveled to his home state in the South.
"That's okay," I said tentatively. "Really, I'm just honored to meet her."
After we picked up the rental car and finally reached the nursing home where she was staying, Pat briefed me on what exactly was going on with his mother. Her health had severely deteriorated, and she was in the final stages of Alzheimer's.
When we entered the dim room with childlike decorations put up by the nurses, his mother's face lit up into a radiant smile.
"Pat," she said. Her voice sounded like southern sunshine.
His mother was propped up on some pillows, and she appeared so small next to him. She embraced him weakly, but with that same glowing smile.
"I missed you, Mom," he said, putting his arm around her and clasping her right hand. Seeing him like this, it was all I could do to keep it together. Witnessing his vulnerability up close, I also saw his heart. Pat didn't just love his mother; he did everything possible to make her feel comfortable, safe, heard, and happy.
When we headed out during lunchtime to go pick up a few of her favorite things — flowers, foods, and little comforts — I realized that I was holding his hand in a different way than I had before. I felt a new sense of security.
Some of the most illuminating writing on the mother-son relationships comes from William Pollack in his book Real Boys, where he describes how men are forced into a "gender straitjacket" and how mothers can reinforce these norms by encouraging them to suppress emotion. The one emotion boys are allowed to show? Anger. Revealing hurt feelings can be branded by moms as being "unmasculine."
Considering this common mothering technique gives me empathy for a few of the men I've known who've struggled in this area. When past partners have raged at me (often in the same way they did at their own mothers), I've tried to remember what might be the cause. But that compassion fades when you've been screamed at enough times — or seen him do it to his mom.
I used to think that because of my own daddy issues I deserved to be stuck with a man who treated women that way. I never expected to date and then marry a man who had a healthy relationship with his own mother.
"Wow. I mean — your mom just lit up when she held your hand," I told Pat after we left the nursing home that day last summer. "Sure, she definitely got confused at times, and that was so hard to see, but man, the love she had for you was just so incredible. That was so beautiful."
"Yeah," he said, quieter than he normally is. "It's hard for me to see her like that."
I tried not to bring it up again. I figured whatever brilliant epiphanies I wanted to have about their relationship weren't what he wanted right then.
When Pat got the call last summer that his mother was in her final days, he booked a flight immediately.
It was stressful as he hurried to leave, and we argued about something stupid and meaningless. I grew increasingly frustrated and angry. Finally, he shut the entire conversation thread down by texting me, "I can't talk right now. I have to go watch my mom die."
It stung. But I knew I deserved it for starting shit right when he was about to deal with arguably the most painful moment in any person's life.
"I'm so sorry. I love you," I texted back, hating myself for letting my own attachment issues and need for a metaphorical daddy interfere with him saying his final good-bye to his primary parental figure.
I spent the next several hours praying and panicking. I prayed for his mom's final hours to be peaceful, and I panicked that I had not been there for him.
Several hours later came the next text.
"She's gone," he wrote. He had just made it to be there with her in her final hours.
Then he called, his voice sounding like nothing I had ever heard before — bearing a sense of otherworldly calm that came from holding his mom's hand in the final hours before she passed.
"Are you okay?" I asked, crying into the phone. "I love you. I'm sorry. I love you."
"There was so much peace," he said. "I'm so glad I was here to be with her. I love you, Mandy. I miss you."
And just like that, I saw the depths of his character. He didn't care about anything except for love.