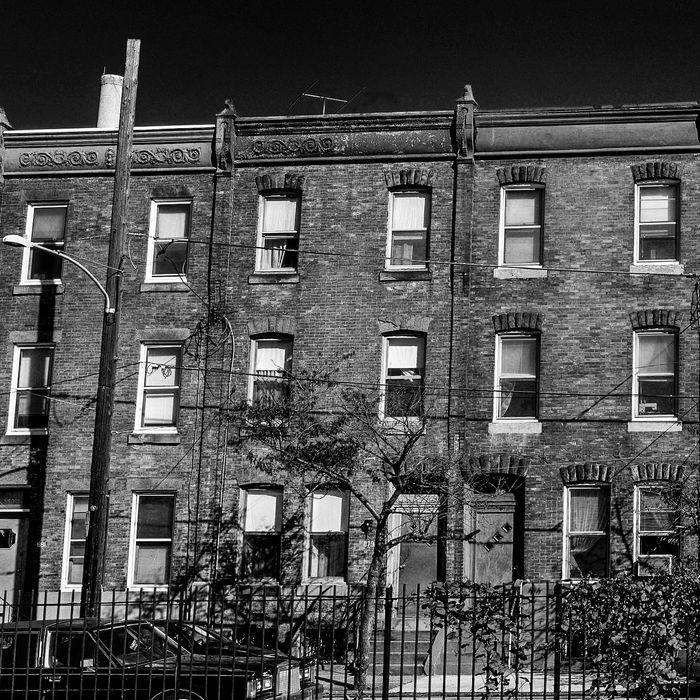 Panoramic morning view of red-brick row houses in Philadelphia, Pennsylvania.
Photo: Visions of America/UIG via Getty Images
Think about the block you live on: Is quiet or loud? Wealthy or poor? Walking home at night, do you feel safe? What if you didn't — how would that affect things?
Evidently, your answers to these questions have a lot to do with social mobility. According to a new study led by Cornell University sociologist Laura Tach, the "micro-neighborhoods" that people live in limit or enhance their achievement.
Tach and her colleagues studied ACHIEVEability, a West Philadelphia housing initiative founded in 1983 that requires participants to work and attend college to gain subsidized housing in one of 152 apartments. Tach's study tracked 84 participants who entered the program from 2007 to 2013.
"The philosophy behind this 'housing + economic mobility' model of subsidized housing is that a college degree … is one of the best ways to permanently break the cycle of poverty and increase self-sufficiency," Tach and her colleagues write, since high-school grads make so much less than college grads. Nationally, 25- to 32-year-olds with just a high-school degree have a median salary of $28,000, while those with a two-year degree have $30,000 and those with a four-year degree have $45,000. So low-wage workers — even when employed full-time — can't afford to live in private housing in many American cities.
The initiative, which Tach encountered while doing postdoc work at the University of Pennsylvania, is a bit of a social scientist's dream: Applicants are assigned to a new place to live on a first-come, first-served basis, thereby creating a "quasi-random" selection, and one that would allow Tach's team to track the impact of environment on achievement. What Tach and her colleagues wanted to find out was how much a "micro-neighborhood" (a cluster of blocks called a Census Block Group, generally housing between 600 and 3,000 people) shaped an individual's success in school, as measured by college credits earned.
Tach's team found that the micro-neighborhood that participants moved to had a big effect on performance: People who moved to more advantaged areas — lower crime rate, more neighbors with bachelor's degrees, lower poverty rate — had more credits earned than people who moved elsewhere. For example, over the course of two years, people who were placed in low-poverty areas earned 27 college credits, while people placed in high-poverty block groups earned 18 credits.
The first takeaway, Tach says, is that the program really does seem to be working. On average, participants followed the requirements, earning 12 college credits a year. And while previous research indicates that adults experience little benefit from moving to more secure neighborhoods — just the kids got a boost — Tach's study suggests that adults grow with the right neighborhoods, too.
While Tach's research didn't get at the mechanism at work in the changes, previous social science research points to two key drivers. Violence in an immediate community has a big effect on test scores in kids — taking a test after there's been a murder on a block results in a lower score — so Tach reasons that it may be the same for adults. Also, since so many of these participants are single parents, living in an unstable environment requires them to spend time, money, and emotional energy to make sure their kids are kept out of trouble. Being in a more stable environment, then, frees up those personal resources. The design of ACHIEVEability also has to help: every participant has a coach, and there's tutoring for them and their kids.
The long-term effects of the neighborhood relocation and achievability are outside the scope of the study, Tach says, since once participants graduate and have a higher-earning job and no longer need a housing subsidy, they aren't in the study anymore. But the program's testimonials speak to changed lives — mothers who finished school and went on to own a day care or become business analysts. That's the power of locality: It can hold a person back, or push them forward.