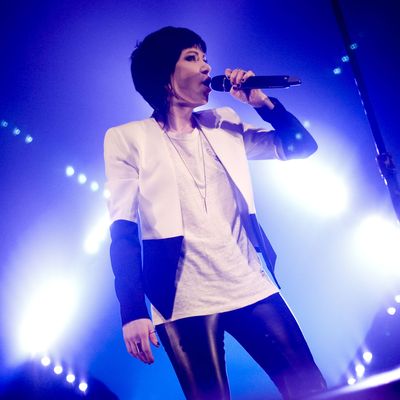 Photo: Efren Landaos/Press Line/Splash
Outside Terminal 5 in March, a bouncer corralled Carly Rae Jepsen fans into parallel rows. "It's not single file," he shouted. "You're not in school anymore." And, for the most part, they didn't seem to be: His colleagues checked IDs and appeared to hand out more wristbands than not. The teens in line — there were a few — shrugged and followed instructions. They seemed mature for their age. But maybe all teens seem mature to me, because the biggest teens I know are all technically grown-ups. Jepsen herself is not a teenager; she is a 30-year-old woman. Reviewers sometimes frame this as a catch or a dirty secret, but it's entirely consistent with her appeal: She sings for teens, but also grown-ups who live like teens because they don't know how else to do it.
"It's wonderful to have something that triggers a memory and can take you to a place that you know you're visiting, to grow and come out of," said Jepsen, who seems as sweet as cherry pie, in an interview with Tavi Gevinson a few months after the release of her third LP, E*MO*TION. "The title is so straightforwardly, uh, non-vague," Gevinson told her, "in a way I really admire." E*MO*TION is perfect teen pop, co-written with teen-pop experts (Shellback, Sia, Dev Hynes, Ariel Rechtshaid). Each song was designed to be of use. There are songs for when you're falling for someone, songs for when you're falling for the wrong person, songs for getting over a person. Songs for when you fell for the right person, or so you thought, but they seem to be ruining your life. Some songs are a little creepy, but only if you don't reciprocate. There are songs for using magical mental vibrations to try to get someone to reciprocate.
The album sold poorly, but inspired devotion among those with nostalgia for "Teenage Dream." E*MO*TION is a pop record for headphones, perfect for cocooning yourself in your feelings, which is a very teenage way to live, but given the option, why would you choose otherwise? Next to Katy Perry, or Taylor Swift — her peers in genre, not stature, but that's okay — Carly Rae Jepsen seems uniquely of service. She doesn't get in the way of her work, or overcontextualize it. She makes a good product and dispenses it in a paper bag.
Jepsen's band had the presence of a waxwork display: Her backup singers moved slightly and out of sync, and from behind the kit her drummer appeared to be shuffling cards. Jepsen worked hard — "She's a fucking athlete, dude," a guy gushed after the show, before comparing the cape she donned for one song to a tablecloth. Her banter was formulaic, but it did what it was supposed to: She reminded her fans what her songs were about, and they cheered, because they understood. Boy problems! Who's got 'em? Hands in set gestures rose from the crowd as if pulled by string. A man brushed past me with fists full of beer, rolling his shoulders to "Gimmie Love." The man in front of me took his shirt off and danced up against his person. Another swatted his friend's cell phone out of her hands and jumped firmly in place until she jumped, too. The teens mostly stood there watching. They were shorter and couldn't see as much.
Jepsen is old enough to be cynical, but she isn't; she's not some cloying naif, either, but a person who has opted into romance because it is a joy. Her lyrics are Disney templates filled with adult wisdom. "I Really Like You" is about reminding yourself that you don't love someone, and the panic of feeling too much too soon. It alludes to a sequence of events that will likely end sadly, but the anxiously hopeful part is usually the best. It takes a few rounds to figure this out. (Eight times out of ten, the subway ride is better than the date.) "In your fantasy, dream about me/And all that we could do with this emotion," she sings on "E*mo*tion," which offers a strategy: emotion as potential, a precious by-product worth using before it exhausts itself. The message isn't love forever, it's that feelings are independently meaningful.
Music holds the intensity. For me there's "Help Me" by Joni Mitchell, which sounds like the blissful prelude to a major disappointment. "Better to Find Out for Yourself" by Buffy Sainte-Marie is for when I am very disappointed. Sylvia's "Pillow Talk" and "Dontcha" by the Internet are the onset of sexual fixation, while "Kiss Me Again" by Dinosaur is the onset of sexual obsession (if it plays in my head, I know things will end badly). "The Way That I Want to Touch You" by Captain and Tennille is for when my thoughts are too embarrassing to handle, but I can't get rid of them so I lean in until they become camp. "Hello It's Me" by Todd Rundgren is a sponge for leftover affection. "Nowhere to Run" by Laura Nyro and Labelle feels about as good as real feeling, and works as a substitute. I listen to it every time I'm falling for someone, like recharging a battery.
Dating as an adult feels pretty much like dating as a teen. The agonies and ecstasies are the same, but more disruptive — in "Boy Problems," the issue isn't boy problems but rather the strain on your friendships caused by whining about them. Your friends have worse problems, and so do you. For the grown-up, sadness is not supposed to be a velvety mystery world. It is an emotional overgrowth you need to treat by paying someone to talk to you, if you can afford it, or just working harder until it goes away. A breakup has all the gravity of a bad cold. You have a better sense of the difference between serious pain and stupid pain, and still pain is still pain. Heartache, at least, holds more joy than a health scare.
Teenhood is a time of becoming, and now more than ever it's a state that lasts. Jobs are precarious, debt levels are staggering, and you have to keep working forever. To keep working you have to stay relevant, and the more you try to stay relevant, and the lighter your security net, and the warmer the earth gets the less permanent anything feels. Banality is another menace. If we have to stay teens forever, we should let it be magic.