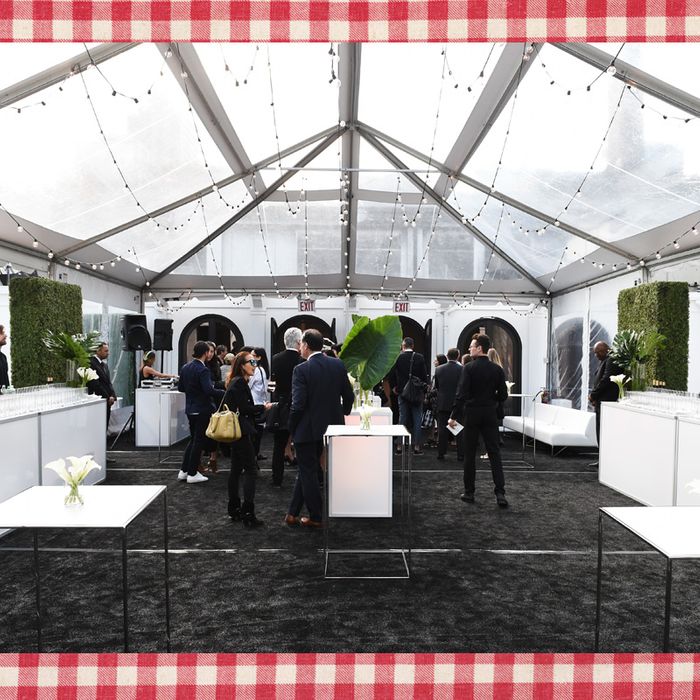 A weeklong series on the art of entertaining, for women who are too busy for Pinterest.
The pain of picking a party venue isn't just reserved for brides-to-be. Whether you're trying to throw a 29th-birthday party on a rooftop with a skyline view or celebrate the launch of your side hustle with a dance party in an enormous warehouse, finding and booking a location can be tough.
Long for the days of at-home dinner parties all you want, but if you can't fit everyone inside your apartment, it's time to lock down a venue — without overspending, getting trapped into a tricky contract, or running the risk of rain. Here's what the experts wish you knew. 
Money matters.
The golden rule is this: Your venue and food should cost less than half of your overall budget. There will be other things to pay for, and you've got to keep some cash handy.
Budgets will vary based on location, of course, but the key thing to remember is that small budgets aren't a death sentence — they just require more creativity. If you're stretched for cash, consider galleries, bars, breweries, and even local retailers, including boutiques and candy shops. You don't want to subsist on instant ramen just to make this party happen.
Another tip? Don't overlook new spots. More established venues can be expensive, but younger ones may be more affordable — plus, they may be more flexible in exchange for the inevitable exposure that comes from hosting a crowd full of social-media-savvy partygoers. Pick a new spot in your neighborhood, meet the owner in person, and try to work out a reasonable deal; after all, it's never a bad thing to support a fledgling local business.
To thine own party be true.
Most party planning happens after the venue is chosen — you spot the gorgeous chandelier in the entryway and know it should be a masquerade, or the awesome disco ball makes '80s music mandatory — but there are some details that can't be saved for later.
"Understand your own needs as they relate to a space and its flexibility and functionality," says Bethany Pickard, founder of Modern Kicks, an event-planning company based in the Hudson Valley.
Before you start searching for the picture-perfect venue, hosts should know three things: guest count, budget, and overall party vision. Serving dinner for 50 means seating 50 guests — but a cocktail party with the same headcount can take place in a much smaller space.
Also consider your guests' specific needs. Are you hosting senior citizens or lots of children? Don't pick a place with too many stairs.
Ask the right questions.
Venue tours can be overwhelming, so never go in blind. Make a list of what you need to know — how many people can the space hold? How many hours are included? — and don't feel bad asking them one-by-one with the coordinator.
Lists of must-ask questions can be found online with a quick Google search (here's one), but novice party planners might ignore important questions that seem obvious at the time and suffer from their ignorance on the day-of. Before signing a contract, find out how the garbage works (you might be responsible) or if the venue has air conditioning (unless you want your guests to swelter).
Other non-obvious questions include:
• Does the venue have a liquor license? If not, you'll either need to acquire a temporary beer-and-wine permit yourself or choose a caterer licensed to serve alcohol.
• Is there a sound system? Lugging in your own speakers can be a pain — or even impossible, if the venue doesn't allow amplified sound.
• Where's the nearest parking garage? In cities, it's safe to assume that most guests will take public transit, but don't force your friends from deep Queens to park 16 blocks away.
Trust your gut.
It's your vision, your guests, your money: You can't afford not to be picky. Pay careful attention during the walk-through. Not only should the venue coordinator "answer the majority of your logical questions with ease and confidence," Pickard says, but you should also be able to envision your guests — and your event — in the space.
Consider bad (or even neutral) feelings a blessing when it comes to venue selection. Is the curfew 10 p.m., even though you were dying to dance until midnight? Say no. Do their restrictions on amplified sound mean you'll have to ditch the DJ? Yes, you will, and there's really no negotiating stuff like that. So just ditch it and move on.
Read the contract. Be the contract.
We've all skimmed a few overlong EULAs in our day. But you can't scroll down and click "I accept" for your venue contract without guaranteeing yourself an enormous headache. Read the damn thing. Consider hiring a lawyer to read the damn thing. By the time you sign, you should know and understand each and every clause — and be able to recite them from memory like it's a rap battle from Hamilton.
Some contract red flags to watch for:
• A minimum headcount might trip you up if you get more "Nos" than expected. If your contract mandates a certain number of guests, make sure you'll safely reach that number. (And no, hoping people show up does not actually guarantee they will.) Be realistic.
• Extreme cancellation policies can screw you if something unavoidable comes up before the event — like serious injury or (knock on wood) an unexpected funeral. Be wary of locations that require full payment if you cancel within 90 days of the event.
• Details matter. If you requested orange damask tablecloths (lord help you) and the contract specifies only "tablecloths," correct the error before signing. Double-check your name, event date, and event time for accuracy. It's a contract, not a vague email from Mom. It's your right to request specifics.
Going outside? News flash: It may rain.
Another contract pitfall: no provisions for rain or extreme weather. Warm weather means cocktail parties under the stars and tea in the botanical gardens — but it also means hurricanes, thunderstorms, and rain.
"Ideally, there is an indoor option for extreme conditions," says Pickard. A tent is ideal — especially if the rain is expected to be sporadic, meaning guests can move inside and out as the weather shifts. Renting a tent is an option if the venue doesn't provide it, but beware: Rentals can easily cost thousands of dollars on top of venue fees.
Preferred vendors are preferred for a reason.
"Preferred" event designers, florists, photographers, and more may raise your hackles — especially if you were craving Mediterranean and the preferred caterers all serve Italian — but they have a lot to offer, even if the practice might feel restrictive at first.
"It's always beneficial to work with a vendor who is familiar with the space," says Pickard. Photographers and designers who've already worked at the venue will know how to make it look beautiful, and they'll also know its quirks.
But if the preferred options just aren't your style, you should "feel free to branch out," Pickard says. (Some venues don't allow outside vendors — make sure to check.) "Just make sure those vendors tour the space so they can plan accordingly."
You're planning the event.
Not your venue. They provide the space, but you (and your vendors) provide the vision, floor plan, food, and décor.
"The venue is a space," Pickard says. "They are not party planners. It's your responsibility to create the event."
Expect to be responsible for finding catering, bartenders, party staff, rentals, and any decorations. Yes, some venues provide their own catering or come with chairs and tables — but many don't. Planning services included in the rental fee are even rarer, although most spaces will be happy to share photos or floor plans from past events.