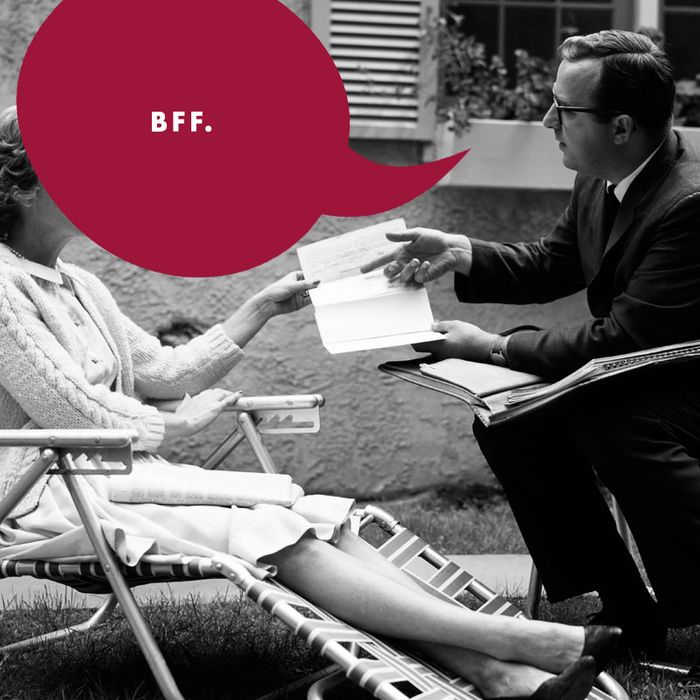 I picked up my first female-friendship novel when I started writing my most recent novel, My Best Friend's Exorcism. The book is about two lifelong best friends who were not only women but were also possessed by a demon from Hell. And while I felt like I had the "demon from Hell" bit fully under control, I was insecure about my take on women. I wanted to research how other authors wrote about women and friendships. You know, for science. Because when I say "female-friendship novel" I'm not talking about Elena Ferrante's Neapolitan Novels, or Meg Wolitzer's The Interestings, or any other book that a male author like me is supposed to read. The book I picked up was Beaches.
By the time I finished crying, I was addicted. And not a ha-ha addiction like "I'm addicted to chocolate," but a drug-level dependency that found me mainlining similar books one after the other. If it had the word "summer" in the title, I bought it. If the cover featured a beach house, or two women walking on the beach or even just a beach, I bought it. Mason jar full of fireflies? Bought. Close-up on a woman's hands knitting? Into the cart.

These books — with their interconnected friends, their book clubs, their knitting circles, their ramshackle family homes on the Cape — all became so familiar that I could read the first few chapters to sort out the characters, then power through the middle watching out for words like "shocked silence" or "cancer," then slow down again for the end: Does the cheating husband return? What secret lurks inside that old diary? Does someone remind her loved ones to dance more right before she dies?

I was afraid my wife would make fun of my addiction, so the fact that Amazon ships in plain brown boxes that I could take directly to my office without letting her see their contents was a comfort. I needed these books. They taught me things:

As a husband, I will probably die in a terrible accident.
In female-friendship books, a husband is lucky to back his car down the driveway without bursting into flames. In The Beach Street Knitting Society and Yarn Club, a husband storms off in a huff and drives into a tree. In Lost Husband, he cashes in his life-insurance policy and instantly dies screaming in a car accident. Summer People mixes it up with the husband dying in a plane crash. In Beach Girls, it's the wife who dies in a car crash, inspiring her husband to move to a beach town and start over again, something he probably learned from reading these books.

Horrible things happen to women all the time. Mostly cancer.
Men should count themselves lucky. A deadly heart attack while driving is relatively merciful compared to what these women endure. Divine Secrets of the Ya-Ya Sisterhood's prequel, Little Altars Everywhere, depicts the horrifying child abuse that shaped these whimsical Southern Ya-Yas. Want to curl up with a harrowing suicide? Try Judy Blume's Summer Sisters. Fancy a homeless housekeeper watching her new best friend burn to death? Marge Piercy's The Longings of Women is for you. Even an innocent trek to the family beach house is bound to uncover a stash of old letters from an ancestor accused of some horrific murder.
Then there's the cancer. A female-friendship book without cancer is like vegan pizza: What's the point? Beaches started the cancer trend, and friends die of cancer in The Saving Graces, suffer from aggressive breast cancer in Firefly Lane, battle cervical cancer in Driving Lessons, survive two rounds of cancer in The Shop on Blossom Street, and breast cancer again in Time Is a River. Sometimes it's MS (The Summer of Good Intentions) or a husband who dies of cancer (Silver Girl), but one thing's for certain — anyone looking for mindless fluff should stay away from any book with beach chairs on the cover. These books are written for women, who are fully acquainted with the horrors of childbirth. It takes a lot of blood and suffering to hold their attention.

Everyone is a cheater.
In female-friendship fiction you just have to accept it: Your best friend is going to sleep with your husband. You will get over this, possibly by moving back home to the mountains of North Carolina or to a small island off the coast of Washington State. But whether it's Emily Giffen's Something Borrowed, Liane Moriarty's The Husband's Secret, or Mary Alice Monroe's The Book Club, every marriage is basically Gone Girl, where husbands smuggle condoms on their business trips and their mistresses show up at their inevitable funerals.

Sometimes it's the women who cheat, but that's mostly recreational. The men are the ones more likely to steal all the money, put the kids through Hell, then hop in a car and wrap themselves around the nearest tree. It's a double standard, but in a world where women make 79 cents to a man's dollar, it's a small equalizer that when men cheat they die, but when women cheat they get to have a glass of wine and move to the beach.

Everyone winds up in South Carolina.
I was born and raised in South Carolina, so I look at my home state and see the second-highest unemployment rate and the highest rate of DUI fatalities in the country. Women in female-friendship novels look at it and see a fresh start. After experiencing tragedies, women in these books go home to Nantucket (Summer People), Cape Cod (pretty much everything by Elin Hilderbrand), or Fire Island (The Last Summer of You and Me), but a surprising number of them want to start over in the state that recently established a Feral Pig Task Force.

They move to Sullivan's Island (The Summer Wind), Bluffton (And Then I Found You), Hilton Head (Full of Grace), and Pawley's Island (The Color of Light). When they run out of real South Carolina communities, they make them up (Egret Island, The Mermaid's Chair; Seaboro, Between the Tides). Maybe it's the fact that cancer is the state's No. 2 killer, or that Mary Alice Monroe (the genre's Godzilla) and Dorothea Benton Frank (the genre's Mothra) both live there. Between them, these two giants are responsible for 33 books about how the state where women are twice as likely to be murdered as in the rest of the country is actually a soothing balm.

The oceans are full of dead people.
The next time you take a stroll on the beach, look at all those fabulous houses with their fantastic views and imagine how many people are dying of cancer inside. In female-friendship novels, people are drawn to the beach when they sense the end is nigh. As a consequence, the oceans are full of dead people. Whether they've been reduced to ashes and scattered into the waves, or tossed themselves off sailboats after realizing they're terrible mothers, the entire East Coast of the United States is bordered by groups of women in fun prints dumping cremains into the surf. So every time you go swimming and swallow some saltwater, you're probably getting a big gulp of someone's best friend or wise grandmother.

Ultimately, female-friendship novels taught me that death, gruesome accidents, bad mothering, and cancer can be fun! The pleasure in reading these books is genuine and ironic at the same time, kind of like the way you enjoy a James Bond movie. And just as James Bond movies leave you wanting more, female-friendship novels inevitably end with a fun party or a perfect family gathering that makes you want to start the next book immediately. Of course, sometimes that fun party is actually funeral, but in these books, what's the difference?

Grady Hendrix's new book, My Best Friend's Exorcism, is a female-friendship novel set in South Carolina. In a beach house. With zero cancer.