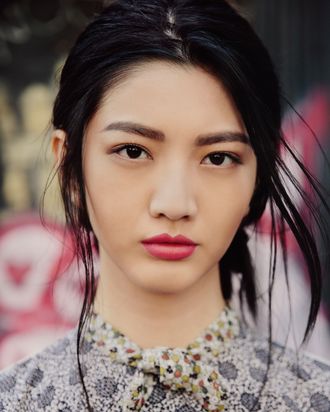 I-Hua.
Photo: David Urbanke
Taiwanese model I-Hua (pronounced ee-hwa) Wu is the newest face to join Maybelline's increasingly diverse beauty roster, which includes models like Jourdan Dunn, Gigi Hadid, Christy Turlington, Emily DiDonato, and Herieth Paul. Although she's not Maybelline's first Asian face (model Shu Pei represented the brand previously), Wu will be the first Asian to represent the brand in ads worldwide.
As a Taiwanese person (whose parents happen to come from the same city where I-Hua is from), I'm seeing this news as particularly sweet. I talked to her about self-confidence, how modeling has changed her view of Asian beauty ideals, and her beauty routine the night before a big job.
You're Maybelline's first Taiwanese model, and their first global Asian model. What does it mean, coming from a small country like Taiwan?
It's so special that I can represent Taiwanese models and bring them some attention. Outside of the U.S., there are few Taiwanese models. It's mostly models from other Asian countries. Some people might think as far as Taiwanese models go that there's only me or perhaps a few others. But lots of Taiwanese models come here and work hard but have never been recognized because Taiwan is so small. I'm happy to shine some light on it.
How did you get discovered as a model?
I never thought about being a model. Since I was little, I was bullied because I was too tall, or different somehow — I'm not really sure. I didn't have any friends and was ostracized. In junior high, I cried every single day. But in high school, my mom saw a company was holding a modeling competition, sponsored by an agency. My mom signed me up. It wasn't to become a model; it was to meet other tall people like me. We went to China to compete, and I came in second.
Growing up, no one told you were pretty?
My face is so familiar to me that it feels like nothing special. Even now, my boyfriend will say things to me like, "Do you know how pretty you are?" I'm like, "You're so weird. You see me all the time and you still think this?" I really don't understand. I know I'm not terrible-looking, but I don't think I'm as great as everyone seems to say.
What has modeling taught you?
Well, it's funny now — some of my old classmates who used to make fun of me say they were good friends of mine. But apart from this, it's helped me to build up a lot of confidence. Before, I used to be more shy and afraid of people. If there were a lot of people, I wouldn't go up and talk to anyone. I wouldn't even leave the house by myself. I would have to go with someone.
Now I'm still a little afraid if I'm not working. I was especially scared when I would have to go on go-sees where there were a lot of other models I didn't know. But now I've become more used to it. People that really know me know I'm a scared person, but now I've had more experience, so I can fake that confidence a little more.
What pressure did you feel to change as a model?
I grew up in Tainan, the south of Taiwan, where it's not as cosmopolitan as Taipei [Taiwan's capital city]. Coming from Tainan to Taipei, some people from my agency made fun of me, saying my clothes were too dorky. People made fun of my height, and I felt inferior and even started hunching my shoulders to try and appear shorter. I wouldn't wear anything with a heel, even it was just with a quarter-inch of height.
Once a makeup artist on a shoot said in front of me that I needed to learn how to wear clothes and change. I went home and cried. So I would add that, with modeling, the biggest thing I've learned is to endure people's criticisms. People often say things in front of your face that aren't good. Like once on a job, someone said if I didn't perform on the next look, they would release me. It gave me so much pressure!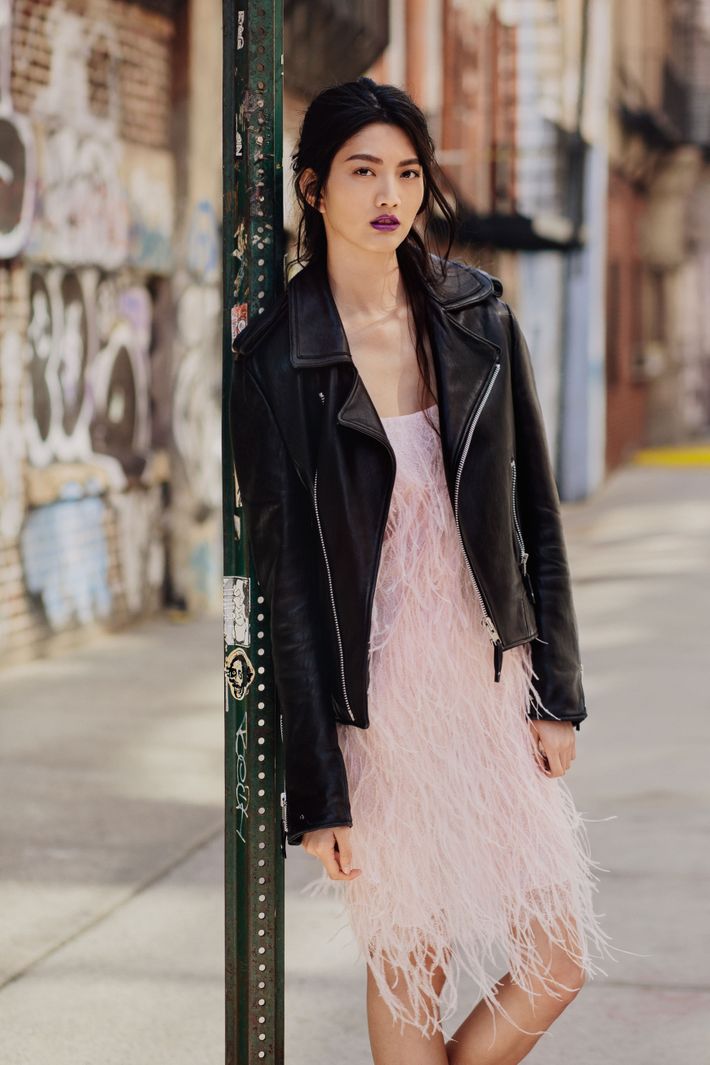 Asian beauty ideals traditionally favor paler skin and big eyes. Has modeling affected the way you perceive Asian beauty?
I too used to think that the ideal was a fair complexion and large eyes. I didn't change my thoughts about this till last year. In our business, they prefer that you wear clear contact lenses. But I didn't want to — I wanted to wear circle lenses which made my eyes look bigger, because I thought I looked ugly without them!
But I like to observe other people. I saw that other people were beautiful, and it wasn't because their skin was white or they were wearing special contact lenses. It's helped to see lots of different type of beautiful. It doesn't matter if your eyes are big or your complexion is white — people don't care. As long as you think you're beautiful, you will be beautiful.
After working out of the U.S., I got a little tan. When I returned home, people would say, "You got tan!," and not in a complimentary way. But I said, "Outside of Taiwan, they like this." Everyone has their own standard of beauty. If there was just one standard, then what does it mean — there are no beautiful people with darker skin? That is just not true.
A lot of Taiwanese girls are slowly letting go of giving themselves the pressure to conform to a certain type of beauty. You can't give yourself such strict definitions of what is beautiful.
What is your morning beauty routine?
I wash my face only at night. In the morning, I'll use water to wash my face. I'll do light makeup day-to-day, but I'm really focused on skin. I'll add a little highlighter on the nose or cheeks. I might do some eye makeup, because it depends on what I'm doing that day. I usually also apply SPF, although a lot of the beauty products that I use already have SPF.
I prefer sunscreens that are clear and have a lotion-y-like feeling. I don't like them to feel sticky — those have almost kind of a melted texture. In Taiwanese drugstores, they often have a lot of sales. I don't really discriminate among sunscreen brands; they're all pretty good.
What is your nighttime routine like?
I'll first remove my makeup. It's popular now to use those face-washing devices, so if I don't use one, it feels weird. I also do a mask the night before if I have a job the next day. There are some you wash off, or don't, or others that you stick on your face. I'll see what works better for my face. Then I'll use toner, or a light emulsion. I'm more focused on making sure my skin stays hydrated. Living in New York is more dry, so I pick products focused on hydration.
What do you miss most about Taiwan?
In Tainan, all the street food is so good. Before I started working, I would drink this beef soup that's popular in my hometown. When I was little, I would walk home by myself and walk over to the stand where they sell beef soup. I would drink it every day.
This could be a reason why my family is so tall. All the kids in my family are so tall. My mom's older brother and their wife are tall, but their kids are short. They don't eat beef. But everyone in my family drinks the beef soup! We think it's from the calcium in the beef. My brother is 183 centimeters. My cousin is super tall. My cousin is also about 170 centimeters. So I think we all owe it to the beef. [Laughs.]
What are your favorite Maybelline products?
Before I was a Maybelline face, it was Baby Lips. Right now I'm really loving their cushion compact (out in 2017).
This interview has been condensed and edited. 
I-Hua wears Bottega Veneta dress in multicolor printed crepe georgette, $2,650,  call 800-845-6790 to order; Michael Kors Collection, blush ostrich feather embroidered chantilly lace slip, $3,695, select Michael Kors locations
Photographer: David Urbanke; styling by Diana Tsui; makeup by Samantha Lau; hair by Jerome Cultrera