Inside the Cannes amfAR Gala
Photo: Andreas Rentz/Getty Images
What event is special, and deliciously monied enough, to gather basically every supermodel on Earth, plus Leonardo DiCaprio, Katy Perry, and the Village People under one roof?
That would be the 23rd annual amfAR Cinema Against AIDS Gala, coinciding with the Cannes Film Festival, and held at the glorious seaside Hotel du Cap-Eden-Roc in Antibes. The theme was disco and, as is fitting for a room in which everyone was worth millions, the floor was covered in glitter and the ceiling dripped with mirrored disco balls and tinsel.
Joel Edgerton, who was at Cannes for the first time for the premiere of his movie Loving with Ruth Negga, was a little awestruck. "The women are all so tall, and I think they've all been told to wear see-through," he said in his great Australian accent. Would he buy anything at the auction to benefit AIDS research? "Not until I get a Marvel movie," he said. What superhero would he want to play? "They've all been taken. I think I'm not getting in there till they reboot all of them."
The evening's program began with Kevin Spacey, subbing in for usual host Sharon Stone, lobbing Donald Trump jokes while doing an impression of Johnny Carson. "Donald would probably love it here on the Riviera," Spacey / Carson said. "There are so many casinos to bankrupt." He also broke out his Bill Clinton, Jack Lemmon, Al Pacino, and Frank Underwood impressions.
AmfAR wasn't kidding about the disco theme. They'd brought in can-can girls from Paris, and Sister Sledge to sing "We Are Family." Also there enjoying the overcooked fish were the Village People (yes, it's still mostly the original guys!) in their classic policeman, soldier, Indian chief costumes; they later took the stage and got Katy Perry and Petra Nemcova dancing to "YMCA." (Katy and Orlando Bloom sat at separate tables, apparently to avoid photographs, but he did come over to her table while she was gone to hang out with her friends.)
The highlight, as it is every year, though, was when the lights came down for a 32-look fashion show curated by Carine Roitfeld and to be sold off as a collection. "Each girl is a disco ball, okay?" she'd told me earlier. "Very, very disco, full of glitter, full of diamonds, Harry Winston, and all the beautiful girls!" There was Doutzen! And Liya! And Karlie! And Lara Stone! And Isabeli Fontana!
Uma Thurman, who'd added in her own fuchsia gown as incentive, handled the lot, which a very rich man bought for his wife — who'd better love wearing silver and sequins — for €1.4 million. Otherwise, he could trade with the guy who bought Fiat heir Lapo Elkann's camouflage Ferrari for the same price.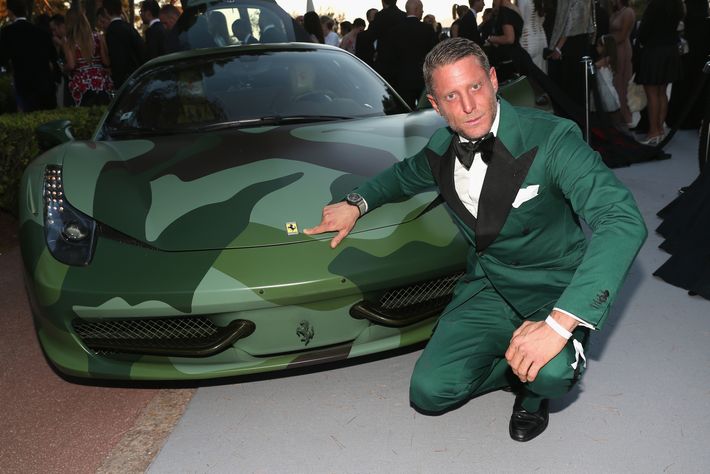 There were also bodyguards everywhere, watching over all those diamonds that need to go back to Harry Winston the next day. (Cannes has been the site of a number of daring jewel heists in recent years, including the largest jewel heist in Europe, $136 million of jewels on display at the Carlton Hotel, in 2013; a $2.4 million diamond necklace that went missing from a star-studded party at the Hotel du Cap-Eden-Roc just days before amfAR in 2013; and a $17.5 million break-in at the Cartier boutique in 2015.) Model Chanel Iman had worn her own diamonds but said someone had hired her a bodyguard anyway. "He's outside waiting," she said, "just to make sure everything goes smooth, no one steals anything, no one kidnaps me."
More money went flying. A Damien Hirst sculpture called "Temple," displaying a human torso, the skin removed, was the night's big winner, selling for €3.1 million. A collection of every Taschen art book ever made went for €2.4 million. Somehow a fish Adrien Brody painted sold for €450,00, while an installation disco ball sculpture from influential Swiss artist John Armleder — the only other copy is in MoMA  — went for €150,000, despite presenter Milla Jovovich's sales pitch: "These could be hanging in your yacht, your private jet, your home! These are some of the most influential balls in the world!" (She's the one who eventually ponied up and bought them.)
Even Leo DiCaprio, who usually sells a spot next to him on Richard Branson's Virgin Galactic spaceship, wasn't as big a draw as usual. A week for a party of 12 to stay at his Palm Springs home went for €300,000. He offered to sell the lot twice, but the second buyer was only willing to pay €150,000. That's because he found out the house didn't come with Leo.
As the clock passed midnight, Katy Perry who — bless her heart — had been waiting over five hours to be the night's closing act, burst onto the stage in a coat made of gold tinsel. She launched into "Roar," then a broken down version of "Teenage Dream," then "I Kissed A Girl." She was hanging off a jungle-gym-like moon cage thing, and exhorting the exhausted crowd to sing along and yell louder. She needed their energy. Paris Hilton jumped to her feet and gave it to her. She did "Dark Horse," and dancers came out, and finally a heartbreaking rendition of "Firework," alone onstage with nothing but her voice and an entire curtain of tinsel to protect her. She let out her triumphant last note and beamed at the crowd, breathing hard and waiting for something. Finally, an explosion of sparkly-ness shot into the air. "The confetti went off late," Perry said into the mike, grinning. "You're fired."