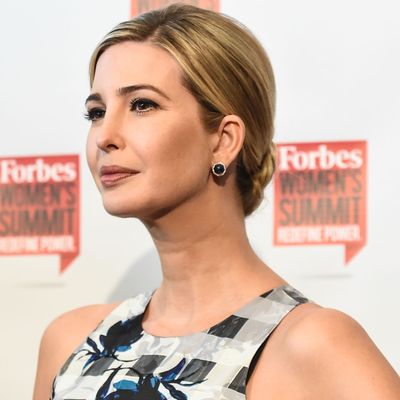 Ivanka's dad's presidential campaign is going just great, thanks for asking.
Photo: Daniel Zuchnik/Getty Images
Ivanka's dad has done many things for this year's presidential campaign. He's started Twitter wars, for instance, and encouraged xenophobia, and catapulted the humble taco bowl to the forefront of political discourse. But to an unbiased third-party observer, none of his actions could be called "elevating" the conversation around the election.
Ivanka Trump isn't an unbiased third-party observer, however, and at this year's Forbes Women's Summit, she praised her father for doing just that. "He has elevated — he has created a dialogue around issues, which really is a powerful thing," she said. "When you think about leadership it's setting the agenda, and he has set the agenda on all the issues that were discussed. And I think that is quite powerful." 
She also praised her dad for being "honest" and went on to say that, with the Donald, "what you see is what you get — even if you don't like the topic. I think people respect the fact that he is bold … that's something we've never seen in politics."
Bold is one word for Trump Sr.'s isolationist foreign-policy objectives and potentially disastrous tax plan. But Ivanka told the audience she's been nothing but "incredibly impressed by his leadership" and is glad the rest of the world is seeing her father's ideas "on a larger scale."