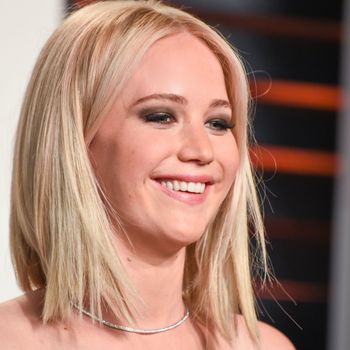 Jennifer Lawrence, or J.Law.
Photo: Billy Farrell/BFA
Jennifer Lawrence: She drinks, she swears, she falls, she vomits, and now … she punches people right in the vagina. This gal.
Game of Thrones actress Sophie Turner revealed in an interview with Just Jared that while the two were filming the upcoming X-Men film, J.Law hit her where it hurts, just for fun.
"She punched me in the vagina once," Turner recalled. "I didn't ask her to either. It just happened. Evan [Peters] and I were having a fake fight and I said something like, 'I'll cunt punch you' or 'I'll punch you in the crotch' and then Jen thought that I said, 'Please cunt punch me Jen.' So she punched me in the vagina and I was like, 'Awesome.' It was pretty funny."
Now that's quirky.