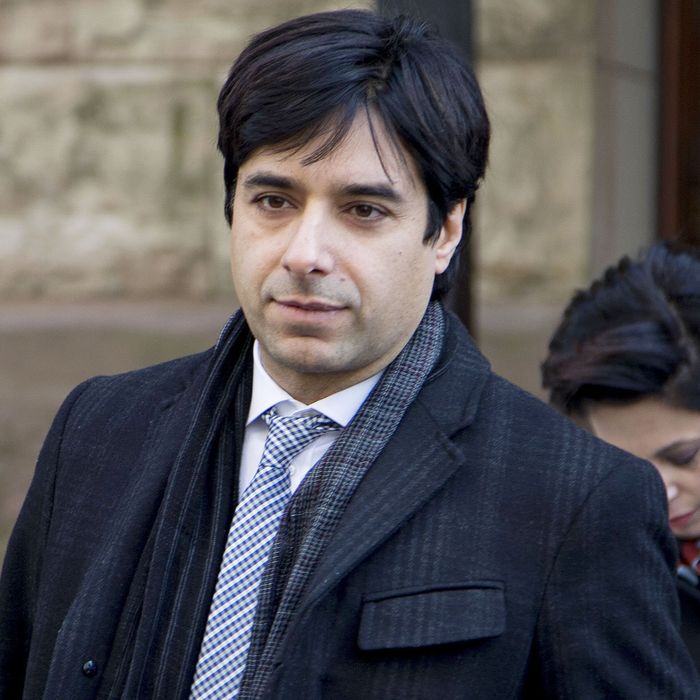 Photo: Carlos Osorio/Getty Images
Today, the legal proceedings against Jian Ghomeshi finally reached their anticlimactic end, as the final criminal count against the disgraced Canadian broadcaster was withdrawn in Toronto court.
Ghomeshi was one of Canada's most popular media personalities before becoming engulfed in a high-profile sexual-assault scandal back in 2014, in which over 20 women and one man alleged that he sexually assaulted and harassed them. In March, a judge dismissed multiple sexual assault charges against Ghomeshi after labeling the witnesses inconsistent and untrustworthy, a decision that is widely derided as a travesty of victim-blaming and an example of just how hard it is to litigate sexual assault. The case that concluded today marked the last opportunity for Ghomeshi to be convicted of a crime in connection with these allegations.
Kathryn Borel, who had worked as a producer on Ghomeshi's former CBC radio program Q, alleged in court that Ghomeshi sexually assaulted her at work back in 2008, with prosecutor Michael Callaghan describing how Ghomeshi "held her waist and pressed himself back and forth repeatedly into her buttocks."
In exchange for having the charges dropped, Ghomeshi signed something called a "peace bond," which is basically an agreement that he will "keep the peace," stay on good behavior, and not contact Borel for a year. It does not constitute admission of a crime, nor does it result in a criminal record. As part of the deal, Ghomeshi also had to issue an apology to Borel, although his lawyer noted that the apology was also "not an admission or a plea."
The apology (which you can read in full here) marks the first time Ghomeshi has addressed allegations against him since legal proceedings began, and it was predictably underwhelming.
"I enjoyed a position of privilege in my job at the CBC as the host of a program I loved. I was a person in a position of authority and leadership and I did not show the respect that I should have to Ms. Borel," he told the court. "I did not always lead by example and I failed to understand and truly appreciate the impact of my conduct on Ms. Borel's work environment."
Ghomeshi says he recognized that he "crossed boundaries inappropriately" and "failed to understand how my words and actions would put a coworker who was younger than me, and in a junior position to mine, in an uncomfortable place."
After the proceedings ended, Borel made a statement to reporters on the steps of the courthouse in which she explained that foregoing the trial and having Ghomeshi apologize seemed like "the clearest path to the truth." She added that "a trial would have maintained his lie, the lie that he was not guilty, and it would have further subjected me to the very same pattern of abuse that I'm currently trying to stop."
"Every day, over the course of a three-year period, Mr. Ghomeshi made it clear to me that he could do what he wanted to me and my body," she continued. "He made it clear that he could humiliate me repeatedly and walk away with impunity." Borel said Ghomeshi touched her on at least three occasions, including the incident raised in court. "Throughout the time that I worked with him, he framed his actions with near daily verbal assaults and emotional manipulations," Borel said. "These inferences felt like threats, or declarations like I deserved to have happening to me what was happening to me. It became very difficult for me to trust what I was feeling."
Borel also called out her employer, the CBC network (who also released an apology today), saying that when she asked them for help, what she received "was a directive that yes, he could do this, and yes, it was my job to let him. The relentless message to me, from my celebrity boss and the national institution we worked for, were that his whims were more important than my humanity or my dignity."