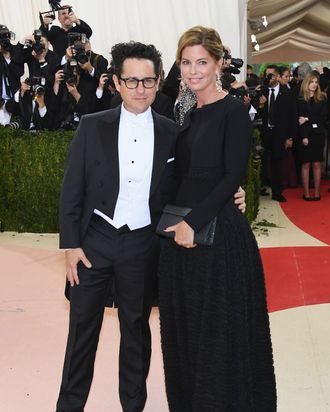 J.J. Abrams and Katie McGrath at the Met Gala.
Photo: Larry Busacca/Getty Images
If you could fuse a high-tech gadget with any fashion accessory, what would it be? The Cut posed this question to celebrities on the Met Gala red carpet last night while surrounded by an array of very silver, robotic fashions trying to do just that: Katy Perry's Tamagotchi-Prada dress, Zayn's cyborg arm sleeves, and Will.I.Am's incognito mask.
Unexpectedly, director J.J. Abrams had the answer of a true fashion savant: He wants high-tech glasses to tell him your name, because he'll forget it. Specifically, "Glasses that would tell me who I'm talking to," he said. "'Cause I always forget people."
How convenient for the Met Gala! It can be hard to tell all those foil-wrapped beautiful people apart.
Reported by Fawnia Soo Hoo.