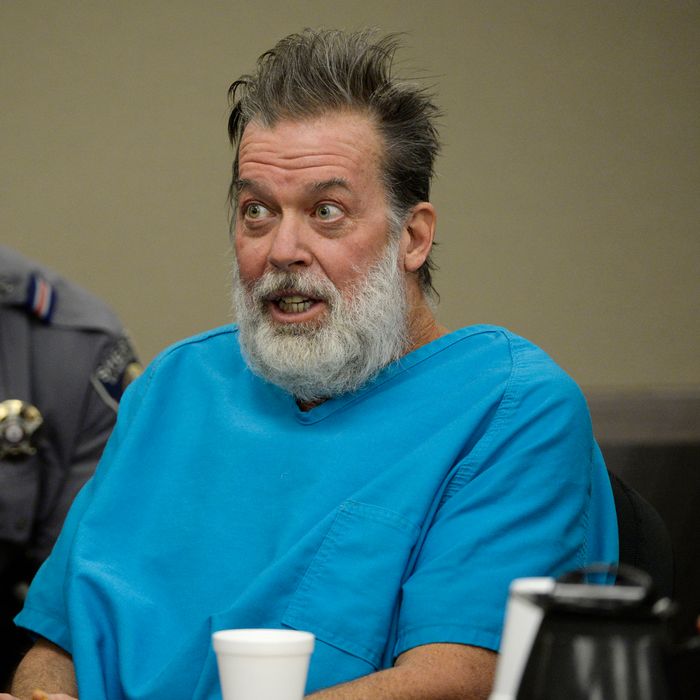 Robert L. Dear, Jr. Photo: Andy Cross-Pool/Getty Images
On Wednesday, a Colorado Springs judge deemed Robert L. Dear, who opened fire on a Colorado Springs Planned Parenthood last November, unfit to stand trial, reports the New York Times.
Judge Gilbert A. Martinez said he found Dear to be "mentally incompetent." Apparently, the guy's been having delusions for years about the federal government spying on him. It's one thing to nervously joke about Big Brother (now getting paranoid about the NSA), but it seems Dear's fears have developed into something slightly more grave.
The Times reports that Dear, who also goes by "warrior for babies," shouted, "That's prejudiced! Prejudiced!" and "Filthy animal!" at the judge. This was after Martinez issued a ruling based on the reports of two Colorado psychologists who evaluated Dear earlier this year — they also deemed him mentally unfit for trial.
Dear, who killed three and wounded nine, has been charged with 179 counts, including first degree and attempted murder. But regardless, his trial is at a standstill until he can get treatment at a Colorado mental hospital. His case will be reviewed August 11.
The waiting game begins.