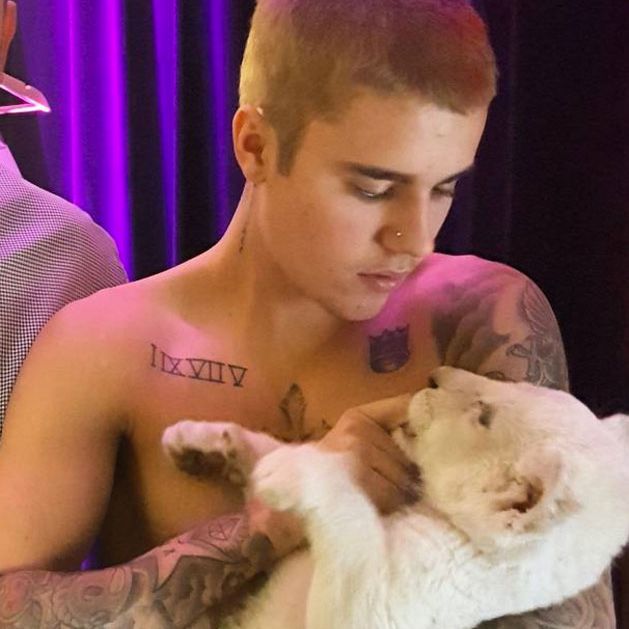 Justin Bieber & Alex, a lion
Photo: Courtesy of Instagram/alexhaditaghi
Pop star and Canadian princeling Justin Bieber prepared for his Toronto show on Wednesday night by bottle-feeding a white lion cub backstage, as one does.
Alex the lion belongs to Alex Haditaghi, a businessman who describes himself as a "serial entrepreneur," and is allegedly "working towards building Canada's biggest animal sanctuary." In another Instagram, Justin is too enamored with the lion cub to even look up for the photo.
Haditaghi also posted a shot a few weeks ago in which Justin was pictured lovingly petting a tiger at his father Jeremy's engagement party. He was criticized by PETA for posing with an abused tiger — though, come to think of it, backstage at a pop concert doesn't exactly sound like a healthy habitat for a lion cub either.
It seems that Justin, like a modern-day Snow White with an even sweeter-sounding voice, cannot stay away from wild animals. Just last week he was traipsing around Boston Common, attempting to feed the squirrels. (The squirrels did not appear to be Beliebers.)
Justin's most famous wild-animal relationship is, of course, his beloved capuchin monkey, Mally, whom he … abandoned unceremoniously in a German airport.
And that's not counting the hamster, snake, cat, and two dogs Bieber owned — all of which are either deceased, living with new owners, or never heard from again. (Dear god, why is anyone still allowing Justin Bieber anywhere near animals?)
Justin, may we suggest a Hasbro robotic cat instead?