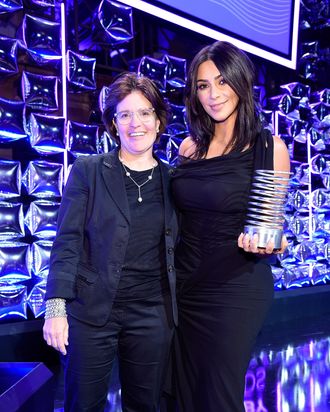 Kara Swisher and Kim Kardashian at the Webby Awards.
Photo: Kevin Mazur/Getty Images
Last night at the 20th-annual Webby Awards, Recode co-founder and executive editor Kara Swisher presented the evening's first winner in a newly created category: Breaking the Internet. Naturally, this category was created for and awarded to Kim Kardashian West. The international award ceremony was held at New York's Cipriani Downtown to honor excellence on the internet.
Calling Kim the "very definition of a modern mogul celebrity with hundreds of millions of social media followers" and lauding her for "writing the code for celebrity endorsements," Swisher highlighted Kim K's various successes: She was the most-Googled person in the world last year; the launch of Kimojis and her mobile game hatched a new line of ecommerce; and the internet unfailingly pauses to see what she's doing, especially when she's not wearing clothes.
"When she posts her selfies, well it gives us a moment from reading all those tweets from Donald Trump insulting someone, anyone, everyone," Swisher said, later adding, "I said to her once in an interview at a code conference … 'Kim, you are the Olympics of oversharing.'"
Kim approached the podium to accept her trophy, and in true Webby Awards style gave a five-word acceptance speech (while flashing a peace sign): "Nude selfies till I die." Watch highlights from the night here: