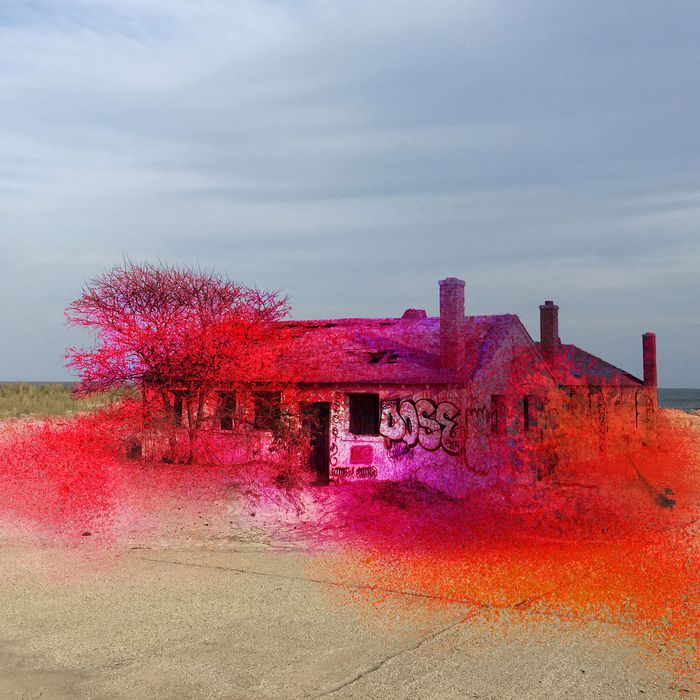 No filters, please.
Photo: Katharina Grosse, Rendering for Rockaway!, 2016, Image courtesy the artist./MoMA PS1
The summer that Kara Walker debuted her A Subtlety: Or, the Marvelous Sugar Baby, a 40-foot-high homage to the people forced into unpaid slave labor for the sugar trade, Instagram was overrun not only with arty pictures of her sugar sculpture but the frequently tasteless selfies of onlookers tweaking the sculpture's nipples or grabbing her vulva. Walker delighted in filming people acting inappropriately in front of the sphinx's ten-foot-high vagina, saying, "I get a sort of kick out of the hyper essay writing, that there's gotta be this way to sort of control human behavior." People will be people, she said. And Instagram makes us all arts critics and art assholes, simultaneously.
It's been two years since the Marvelous Sugar Baby installation closed, but is a New York summer really a New York summer without an art installation for all of us to obsessively flock to? The time-honored tradition of Instagramming the same angle on the same piece of art will get a revival this summer when Katharina Grosse's piece in the "Rockaway!" exhibit opens at Fort Tilden's dilapidated aquatics center, and those Instagrams will do their job in both preempting and inspiring FOMO.
Though Grosse's neon pink-and-orange spray-paint installation is all the way in Queens (gosh), it'll sure to be a hotspot for intrepid Sunday visitors who want beach time and an onslaught of Instagram likes. Even better? It opens Fourth of July weekend. Get that picture-snapping finger ready.