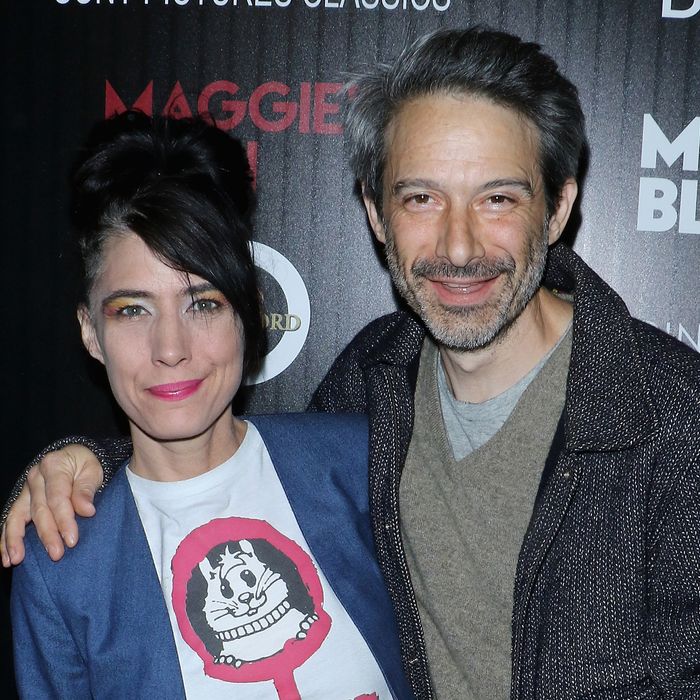 Adam Horovitz and Kathleen Hanna at the premiere of Maggie's Plan.
Photo: Jim Spellman/WireImage/Getty
Musical couple Adam Horovitz and Kathleen Hanna both took part in Maggie's Plan, the new film by Rebecca Miller, starring Greta Gerwig, Julianne Moore, and Ethan Hawke. The former Beastie Boy (Ad-Rock) served as music supervisor, and the Bikini Kill lead singer made a cameo as a nightclub chanteuse. In the garden at Ladurée Soho on Thursday, following a screening hosted by the Cinema Society and Montblanc, the two chatted with the Cut about online shopping.
Have you bought anything interesting online recently?
Kathleen Hanna: Actually, it's pretty weird. I was looking for an Ikea cover for a loveseat, because they don't have it anymore, and now ours is, like, all fucked up.
So did you buy it?
K.H.: No. I was waiting to, like, check with him, if he liked it or not. But also I just felt it was way overpriced, and I have a feeling Ikea is going to bring this thing back.
Adam Horovitz: I can't remember, but I know what I want to order — I need pajama pants. And I could go to the store, or I could just go to my computer.
K.H.: Oh, and I bought a couple of leotards off eBay.
eBay? Is that also where you found the Ikea cover that you're debating about?
K.H.: Yeah, it was on there. But I buy a lot of leotards, like, for costumes for stage. I just type in leotard; especially blouse leotard. You know those kind that have like a blouse on the top and then on the bottom …
A.H.: A "blouse-etard"
K.H.: It's a "blouse-etard."
And you buy them on eBay? You can't just buy them at a retail store?
K.H.: No, cause they're used. They don't make them anymore. Like, they don't make those Donna Karan-early-'90s-I don't-want-panty-lines. Because it looks like a shirt, and then it has a piece of elastic, and then it's, like, underwear on it. It's kind of like an adult-size onesie. It's like a onesie for a baby.
A.H.: This is part of the e-commerce thing, like, through eBay and things, isn't it telling manufacturers what people want?
Funny. Tonight, a fashion designer here told me she bought on eBay a pair of pants that she designed several years ago but are no longer made.
A.H.: There you go.
K.H.: I've had to do that with my records before.
A.H.: Blouse-etards.
K.H.: Blouse-etards.