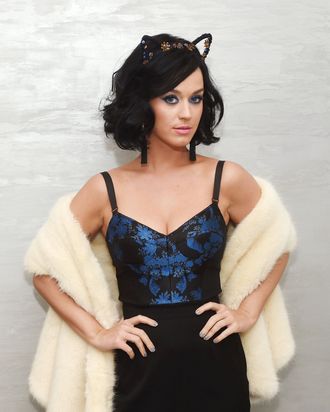 Katy Perry launches Katy Kat.
Photo: Jamie McCarthy/Getty Images
Last Sunday, beauty editors waited for Katy Perry at an Upper East Side townhouse. The historical residence had been re-created into a Instagrammable, hypoallergenic-cat-themed fun house (though no actual cats roamed the premises) in honor of Katy Perry's first makeup collection with Cover Girl.

Perry has been a spokesperson for the brand for over a year now, but Cover Girl Katy Kat is her first real makeup creation. The cater-waiters wore cat ears and noses, cat cookies were passed around, the carpet was decorated with cat paw prints, videos of Perry clutching felines aired on loop, and, finally, Perry herself emerged wearing lacy cat ears and a shrug made of fur — faux, of course.
"I'm excited to talk to each and every one of you!" Perry said, before entering the photo booth and being Snapchatted around the world. We broke up into small groups and were each permitted to ask Perry one question. Here's what I learned from my session:
All 13 of the lipstick shades are cat-related. There's Purrsian Pink and Catoure.
The lipsticks are demi-matte, meaning mostly matte with a moisturizing finish. "So you don't look like you went to both weekends of Coachella and haven't drank a bottle of water the whole time. Or basically you look like you have a butt hole in your face."
There's a black lipstick called Perry Panther (she wore it to the Met Gala). "I wanted to push Cover Girl's idea of what is classic," she said of the unusual lipstick color range. And she wanted to create a black lipstick that you could wear without the feeling of "using eyeliner all over your lips" — the same mouth-drying makeup trick used at Marc Jacobs and Fenty. There's also a blue mascara (that comes with the same wand as Cover Girl's Lash Blast mascara).
Perry is philosophical on the topic of beauty. She said, "It's never this one thing that is going to complete you. Beauty is fun to highlight all of the inside things you've been working on, like strength, love, and self-care. There are girls that wear no makeup and are beautiful because of the way they hold themselves. But I also never want to discriminate against people who love a lot of makeup. It's about what is coming out and shining from within you. If you think of yourself, that's never going to help. You're still going to give off energy that is hard."
The black lipstick is actually pretty good. A few days after the event, I tried Perry Panther on at home. I appreciated that the black had a hint of blue to it, so it actually brightens your lips, rather than dulling them. It wasn't dry, it went on easily, and it was dense enough in pigment to provide a good, even base. Three coats later, with blotting in between, I had a true matte black mouth.