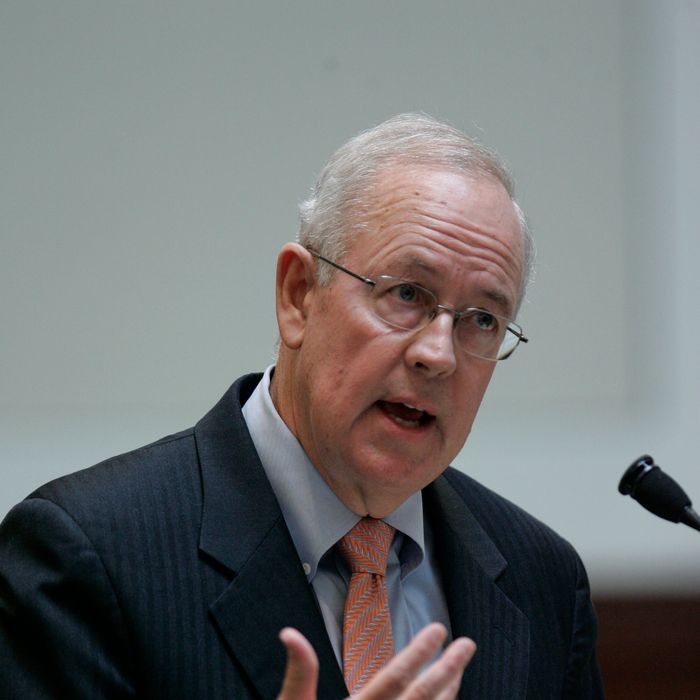 Ken Starr is out. Photo: Pool/2009 Getty Images
Photo: Pool/2009 Getty Images
The Board of Regents at Baylor University announced Thursday that it had demoted the university's president, Ken Starr; fired football coach Art Briles; and placed athletic director Ian McCaw on probation over the mishandling of sexual-assault complaints against members of the football team. Starr will step down from his post on May 31, but will remain employed as school chancellor, the Associated Press reports, citing a statement from the Regents. Briles has been suspended "with intent to terminate."
The school had been accused of dealing improperly with rape allegations against its football players in the past, and Starr — a former prosecutor who made his name investigating Bill Clinton's affair with Monica Lewinsky and other scandals — had a law firm conduct an inquiry into the matter last year after former football player Sam Ukwuachu was convicted of raping a female soccer player.
The findings were damning. The firm's report shows that football coaches and athletics administrators had conducted their own investigations into these complaints, despite having no training in this regard, and had failed to report some cases to administrators outside the athletics department.
Staff members, the firm found, had met directly with at least one complainant, "improperly discredited" complainants' allegations, and "denied them the right to a fair, impartial and informed investigation." The report also faulted the Waco, Texas, university for not speedily enacting federally mandated processes regarding student conduct and for failing to address a "potential hostile environment" for rape survivors.
The review revealed "a fundamental failure," the Board of Regents said in Thursday's statement
Briles, McCaw, and the regents themselves are named as defendants in a Title IX and negligence lawsuit filed by rape survivor Jasmin Hernandez in March. Hernandez, who was sexually assaulted by former Baylor football player Tevin Elliott, claims that the school officials were intentionally "indifferent" to complaints by her and other alleged victims of Elliott, who was convicted on two counts of rape in 2014 and sentenced to 20 years in prison.
Baylor, where "homosexual conduct" was in violation of the school's sexual-conduct policy until last year, is the largest Baptist university in the country. Starr, a conservative Evangelical Christian, became its president in 2010. Two years later, he had no trouble using allegations of sexual misconduct to drive leftist professor Marc Ellis into retirement — a case that Ellis's supporters claim was politically motivated.