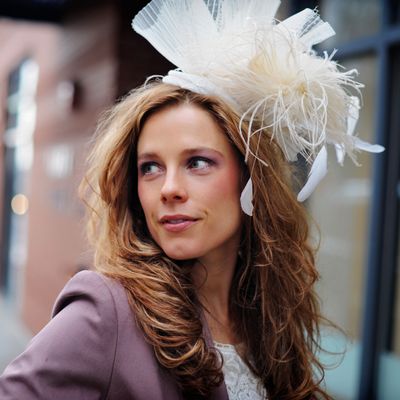 Kenzie Kapp, creative director of Louisville's the Mill by Kenzie.
Photo: Adele Reding
The Kentucky Derby starts this Friday, kicking off a weekend of two important Southern traditions: mint juleps and hats. For a cheat sheet on what to expect, the Cut turned to veteran Derby hatmaker Kenzie Kapp, creative director of the Mill by Kenzie, who has designed hats for the likes of Jill Biden and Miss America.
Kapp sources feathers and tulle from places like the U.K., Australia, and New Orleans."The hats, the headpieces, the fascinators — you just come alive," she says of the Derby. "They're like little people." Read on for her guide to how the style will unfold this weekend.
The best hat is a 365-degree hat. "People can see you from every direction. They can look up from across the track, there's people in the boxes, in the Mansion and Turf Club.* From every angle someone's seeing you. You should be able to do a turn, and someone should see something that catches their eye."
The hat is really about the dress. "You don't send a hat down a runway on a naked body, so everything needs to be perfect," she says. Some clients start sending her photos of outfits in the fall, six months before the Derby.
This year, expect a sea of pastels. No surprise there, but: "My eye keeps picking up that orange color."
Some women will wear their hats for 16 hours straight, from 8 a.m. to a late-night gala, which is why you'll see fascinators. "The difference between the hat and the headpiece or fascinator: You don't feel it as much. When you go to hug someone, it's not running into them, it's not so big that you want to take it off and leave it in the chair."
Accessories have to be smaller than 12 inches. "A small clutch is always best."
For Kapp, Kentucky Derby hats are a family tradition. The 39-year-old Louisville native grew up learning to sew at her grandmother's sewing table and attended her first Derby at the age of five, circling papier-mâché horses around a play racetrack. Her grandmother, Mary Lou, was a bridalwear designer for 40 years, working through the night to make '80s-style hats, veils, and wedding dresses. She inspired Kapp to start Camp Kenzie, a summer hatmaking camp for girls aged  7 to 13.
This interview has been edited and condensed.