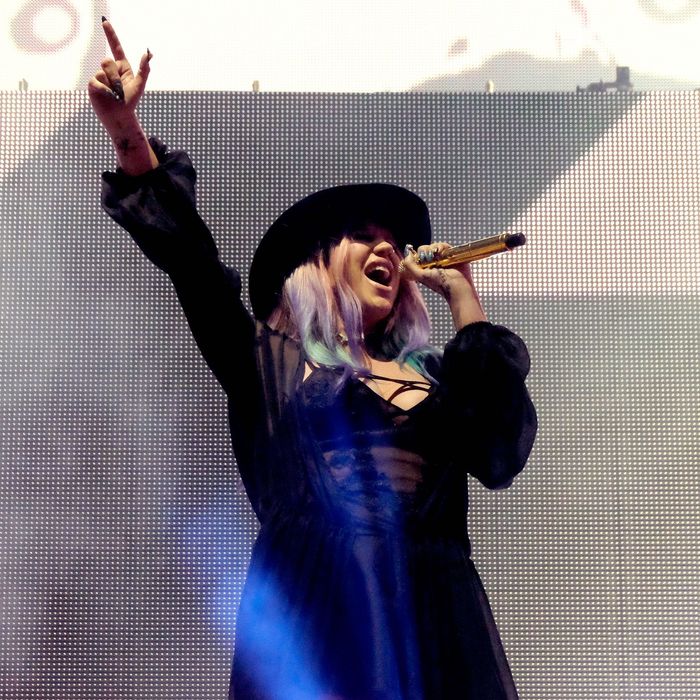 Giving 'em the finger.
Photo: Frazer Harrison/Getty Images
Imagine you're Kesha, hanging out at the beach on a Sunday afternoon, just chilling and taking some selfies with just a touch of implied toplessness. When you're not looking, your Instagram comments explode in a fiery ball of grotesque body-shaming and misogyny.
Well, Kesha isn't having any of your body-shaming BS, or your gross "asking for it" comments. After the initial series of selfies, she posted a glorious photo of herself by the ocean, silhouetted by the sunset, with both middle fingers flying straight into the sky.
"I have been battling depression and an eating disorder for a while now. my career is in a strange place and it feels like I'm fighting an uphill fight some days. but I have decided to take my life back. my freedom. my happiness. my voice. my worth. I will not just fucking be quiet and hide. today I will say fuck it and live. So FUUUUUUUUCK it. today I'm making that choice. AND IM HAPPY AS A DAMN CLAM. and also a big ol fuck u if u wanna hate on my body. just remember that makes u look like a dickhead," she wrote.
And that's how you do it.