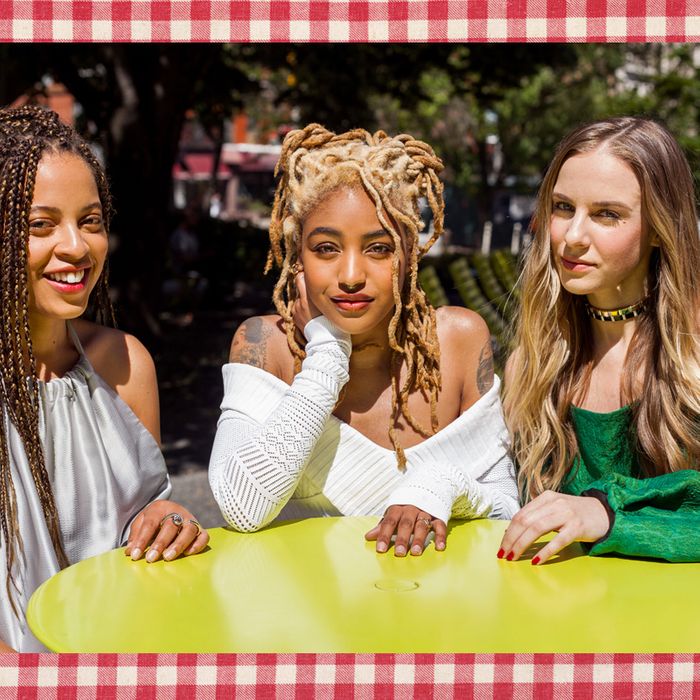 The conventional wisdom for summer beauty goes something like this: Use a primer so your makeup won't melt. Powder your face early and often. Use enough humidity-fighting hairspray to puncture the ozone! It's exhausting.

Instead of fighting the summer heat, what if you embraced it? That's what the Cut imagined when it captured three friends, Naima, Dasha, and Lorelei, hanging out in a park in downtown New York. Using a minimal amount of makeup and hair products, the three women show that your best bet to beat the dog days of summer is to give in to them.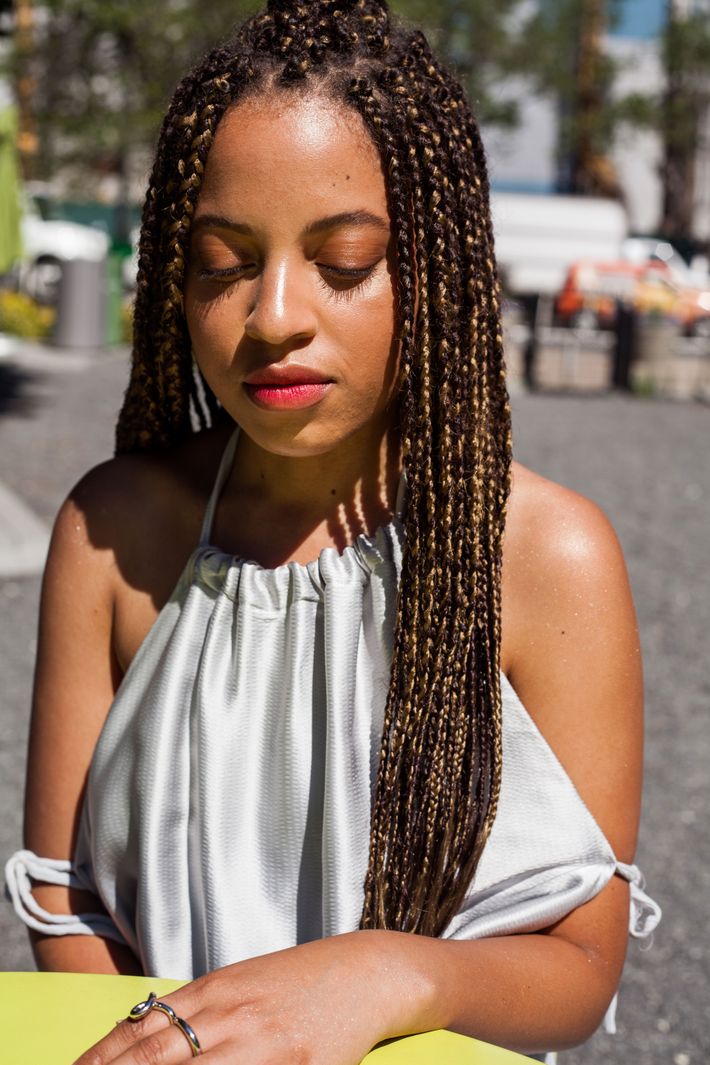 One of the easiest ways to embrace the summer heat is with a braided hairstyle. The maintenance is rudimentary, and if you are consistent with upkeep, the style can last all summer. Rub a pea-size dollop of oil along the lengths of the braids to enhance shine and prevent dryness. So that new growth around the perimeter of your head looks neat, add a dab of Olive Oil's Edge Control. Smooth this over edges with a stiff brush. 
When it comes to lips, make it easier on yourself with a creamy formula that moisturizes and adds of splash of color. RMS's Lip2Cheek is formulated with coconut oil, which adds a small amount of shine. Sipping summer water or dipping in the guacamole bowl? Use this tip from makeup artist William Scott and dab the formula on your lips, starting at the center of the mouth and working your way out. The blurred effect makes smudging and wear less obvious.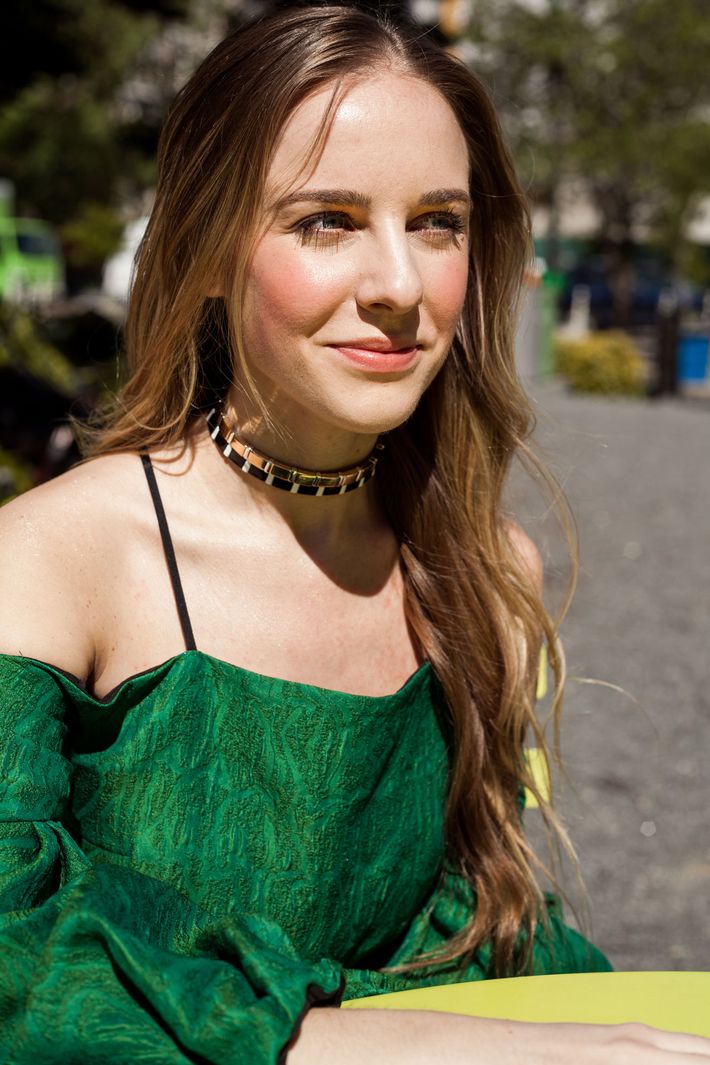 Speaking of RMS's Lip2Cheek, swipe the formula on your face for a natural flush. It melts into skin and makes it look like you were born wearing blush. Who cares if it's hot? As the temperature rises, the cream-oil adds a natural-looking glow.
On the hair front, if yours is straight, consider teasing the roots for easy volume that lasts. Grab a few pieces and twist around a curling rod, alternating directions with each section. The seemingly haphazard twirls shape carefree waves that look humidity-made.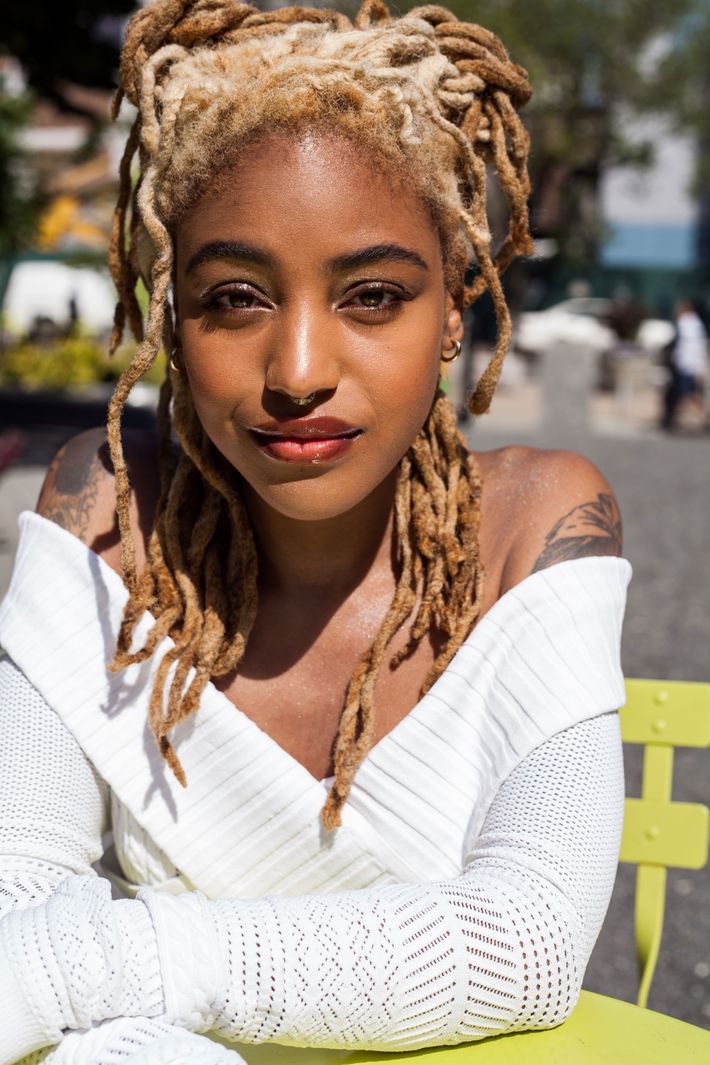 For the woman who loves eye shadow but has to wallow through summer with oily lids, look for a gloss. M.A.C's Studio Eye Gloss in Lightly Taupe is super shiny, tacky, and best of all, great for greasy eyelids. The formula has a sparkly but opaque pigment that hides the fact that your lids are sweaty. Take that same gloss and tap it over lips for a glossy, wet smile. After all, summer beauty should not only be easy, but multifunctional too.
Photographer: Andre Walker; beauty editor: Ashley Weatherford; market editor Lindsay Peoples; makeup by William Scott; hair by Cynthia Alvarez; models: Naima Green, Dasha Jensen, and Lorelei Black.