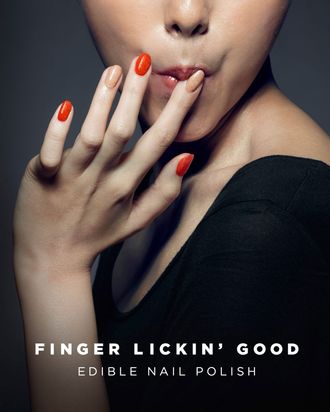 Here's something. KFC now has edible nail polish. It tastes like chicken and comes in not one but two flavors: Original, in glittery nude, and Hot & Spicy, in bright orange.
KFC released the polish as part of a new Hong Kong marketing campaign on Wednesday, explaining in a statement, via Racked, exactly how you should use it: "Simply apply and dry like regular nail polish, and then lick — again and again and again" — lots of licking going on here — "to taste why the world's favourite chicken is Finger Lickin' Good."
Dancers in a promotional music video look really uncomfortable. They also don't lick their fingers at all.
KFC said the nail polish targets Hong Kong's younger generation, to show them "the great taste and good times the brand stands for." This is after the chain recently announced it's actually going to make its food taste good. And after it unintentionally served one woman a fried kidney. Excellent.