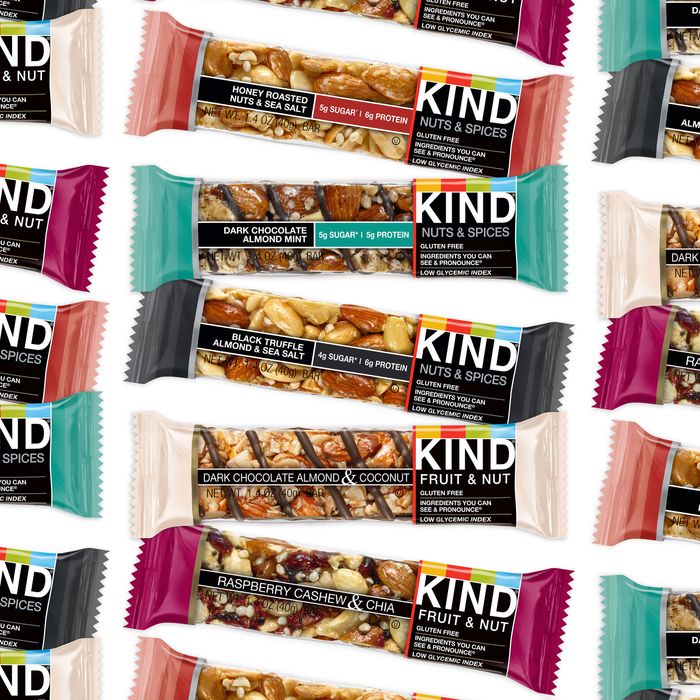 Kind bars.
Photo: Courtesy of KIND
Kind Snacks has been tussling with the U.S. Food and Drug Administration over the FDA's claim that some Kind bars have too much fat to be labeled healthy. And now the FDA says Kind can carry on, and it will look into updating the 20-year-old term.
To recap: The FDA sent Kind a warning letter last March asking them to removed the word "healthy" from some of its labels. Kind respectfully disagreed and filed a Citizen Petition citing a dozen nutrition experts who explained that, yes, the nut-packed snacks are relatively high in fat, but most of it is the good, unsaturated kind. They also pointed out that sugary cereals and pudding would qualify as "healthy" the way it's defined, but salmon and avocado would not.
Yesterday, the FDA said that Kind could continue to use the term on its labels, though only as it applies to the brand's corporate philosophy and not as a nutrient-content claim. How passive-aggressive. It's likely because agency is going to solicit comments from the public and experts on how to update the definition, but the process will take years.
Though even in its latest dietary guidelines, the FDA tells people to stop obsessing over nutrients like fat and consider their overall eating pattern, which should include lots of whole, nutrient-dense foods. Fat is no longer demonized like it was in the '90s, when the word "healthy" was first officially defined.

It will be a while until we hear back from the FDA, but here's the current memo: fat fine, added sugar bad.