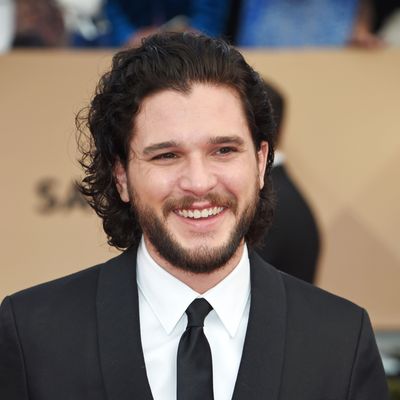 Photo: MARK RALSTON/AFP/Getty Images
There's nothing more upsetting than when a beloved entertainment figure decides to weigh in on "sexism toward men," and in a new interview with The Sunday Times, Kit Harington proves that waking from the dead doesn't necessarily make you woke.
"I think there is a double standard," said the actor, who plays resurrected hero Jon Snow on Game of Thrones. "If you said to a girl, 'Do you like being called a babe?' and she said, 'No, not really,' she'd be absolutely right."
"I like to think of myself as more than a head of hair or a set of looks," he added. "It's demeaning. Yes, in some ways you could argue I've been employed for a look I have. But there's a sexism that happens towards men. There's definitely a sexism in our industry that happens towards women, and there is towards men as well."
"At some points during photoshoots when I'm asked to strip down, I felt that," Harington continued. "If I felt I was being employed just for my looks, I'd stop acting."
Admittedly, nobody wants to be judged solely by their looks (although a little objectification can be a good thing!). But equating his own experience with the sexism faced by women in the industry seems more than a little tone-deaf, especially when you consider that Game of Thrones regularly relies on rape as a plot device, hires almost no female directors, and gave us just one measly flaccid penis amid years of gratuitous female nudity.
Cue the GIF!