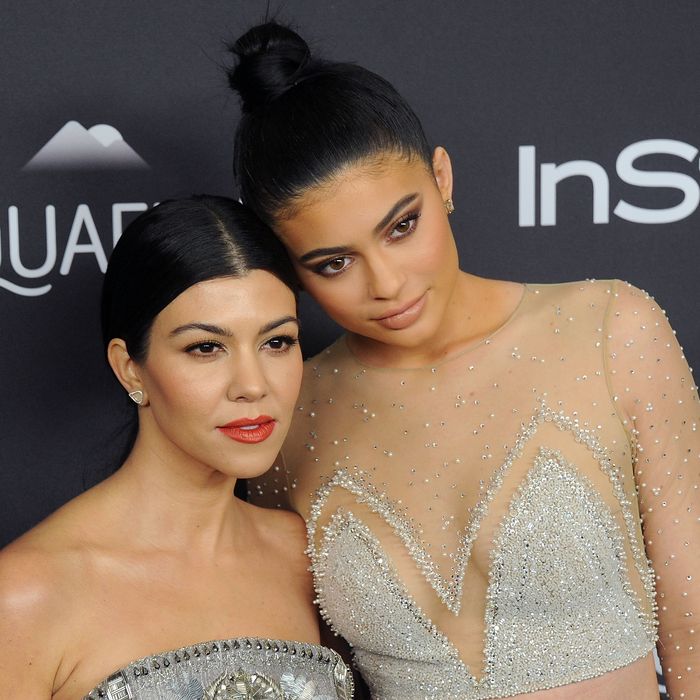 That's what sisters are for, right?
Photo: Gregg DeGuire/2016 Gregg DeGuire
There are so many reasons to put a passcode on your iPhone. Do you really want anyone to know how many apps you have that track the phases of the moon? What about all those pictures you've taken of other people's dogs? Are you still playing Candy Crush? Lock it down!
Then there are those of us who are foolhardy enough to trust others with our passcodes, and that way madness lies. Kourtney Kardashian found out the hard way that she shouldn't share everything with her little sister, Kylie Jenner, when Kylie took dating matters into her own hands and set up a Bumble profile for Kourtney. Bumble, in case you aren't hip to the online dating thing, is an app created by Tinder co-founder Whitney Wolfe, who sued Tinder for sexual harassment before striking out on her own. It's almost exactly like Tinder, except that women have to send the first message.
Jenner Snapchatted the whole thing, and it looks absolutely for real and not at all some sort of paid product placement, because why wouldn't someone who has over 40 million Instagram followers try Raya instead? Other than the fact that Raya is probs way too ~*artsy*~ and discerning to let a Kardashian in to their hallowed virtual halls. No, you're salty because your Instagram feed was deemed not sexy enough and too full of cats by a panel of mysterious Los Angeles tastemakers!
Luckily, Kourtney and Kylie are way smoother at this whole sponsored Instagram post stuff than Kourney's ex, Scott Disick. Disick didn't just post the marketing copy provided by Bootea, but also included the instructions from his social media folks on when to post it. Oops.
Of course, maybe Kourtney is actually giving Bumble a try, in which case, good luck and Godspeed.