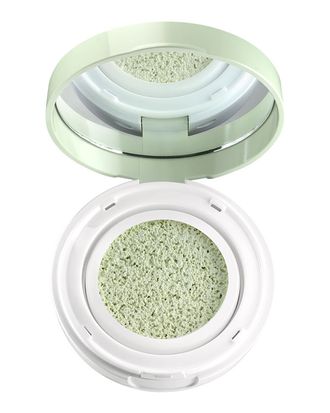 Lancome Miracle Cushion Compact
Photo: Lancome
Lately, it seems that you can't step into a Sephora or drugstore without finding yourself pestered into buying a color corrector. They're everywhere: yellow, orange, and purple ones to balance dark circles and dull skin, and green ones to counteract redness. Lancôme hopped on two trends at once with its cushion-compact-meets-color-corrector lineup. The products are all good, but the brand's pistachio-colored corrector, which curbs redness, is the clear star.
The color corrector is an extension of Lancôme's foundation cushion compact, which marched into stores last year. Like its foundation predecessor, the color corrector seeps out when you push the circular applicator into the formula-soaked sponge. You can then tap a small amount of color corrector along troublesome spots on your face.
If you possess even a modicum of knowledge about color theory, then you're already aware green cancels red tones. Lancôme's cushion compact does this especially well because it dries quickly and quite matte. So after you've applied the corrector along your allergy-reddened nose or super-flushed cheeks, your skin will be prepped and ready for a layer of concealer or foundation. And you need one or the other, by the way, because a color corrector that isn't followed by a foundation or concealer leaves your face an interesting shade of green. Who wants to walk around with skin the color of a cool scoop of gelato?
As soon as my spring allergies hit, I began to layer the corrector around my nose. It neither pills nor budges all day, even when met with the oppressive and drying touch of a tissue. It's almost as good as not having allergies at all. Almost.
Lancôme Miracle CC Cushion, $39.50 at Sephora.