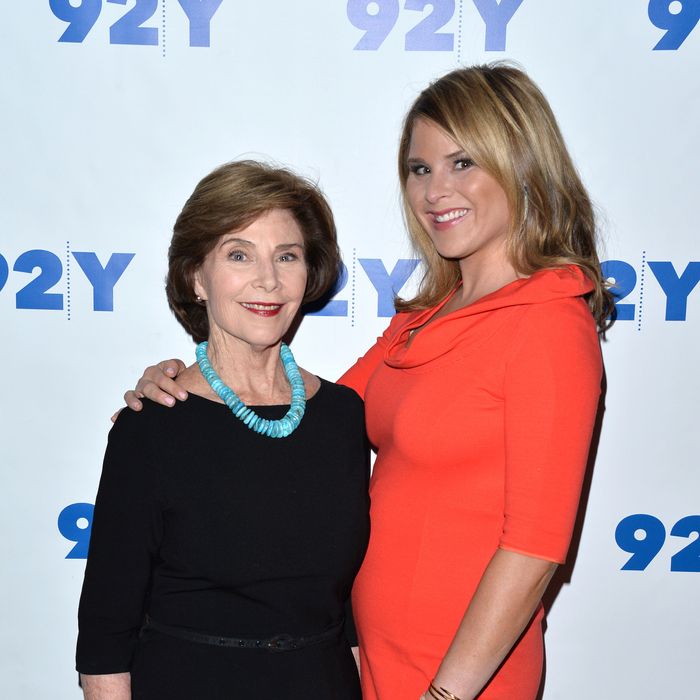 Laura Bush and Jenna Bush Hager
Photo: Andrew Toth/Getty Images
Back in 2013, George W. Bush took up painting, presumably as a way to distract himself from constant haunting thoughts about his disastrous two-term presidency. And three years later, he's still at it, proving this is less of a hobby and more of a deep spiritual calling for him.
But not everyone in the Bush family is a fan of his artwork. Wife Laura Bush and daughter Jenna Bush Hager — now on a press tour for their picture book Our Great Big Backyard, which is perfect for Dubya's reading level — expressed some mixed emotions about his oeuvre.
In particular, Laura was not taken with the only portrait W has ever attempted of her. "I didn't think it was that good," she told People, though her daughter thought otherwise. Jenna also passed along one of her father's newest Bushisms: "It's hard to paint your wife."
But when it came to a painting of her 3-year-old daughter, Mila, Jenna says, "My mom liked it, but I thought [Mila] looked like a wrinkled old man." Laura was quick to correct her, saying, "It was pretty good. Not great." Damn, Laura. Maybe he should just stick to painting his dogs?
This comes shortly after the mother-daughter pair burned George W. on The Tonight Show. Jenna revealed that "there was actually a period where he only communicated through his [air quotes] art," which prompted laughter from everyone there.
Congratulations to Jeb for no longer being the saddest Bush. But, George, look on the bright side: Now you have so many more feelings to paint.