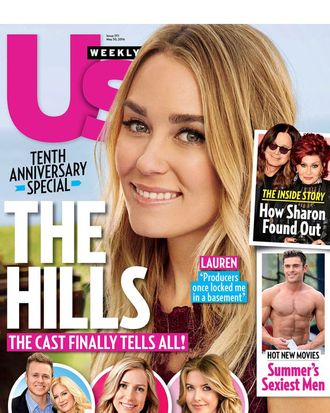 Locked in a basement.
Photo: Courtesy of Us Weekly
The 10th anniversary of The Hills has brought a lot of new and dark information into the atmosphere. Audrina Patridge revealed last week that the person who started those rumors about LC and Justin Bobby died, and today, Lauren Conrad told Us Weekly that one time during filming, producers locked her in a basement.
This all happened at the wedding of Spencer Pratt and Heidi Montag, Lauren explained. While filming the momentous occasion for the show, there was a bit of a production hiccup.
"The power went out, the generator went out and I said, 'I need to leave!'" she revealed. "And [producers] wouldn't let me leave! They literally locked me in the basement with two security guards and wouldn't let me leave!"
Damn. Can you imagine what Lauren was like in that moment?
"I was like, 'You can't keep me here!'" she told Us Weekly. "I was throwing a fit!"
Hills producer Adam DiVello told Us Weekly that Lauren "might have felt locked in, but she was not."
It's so hard to know whom to trust.