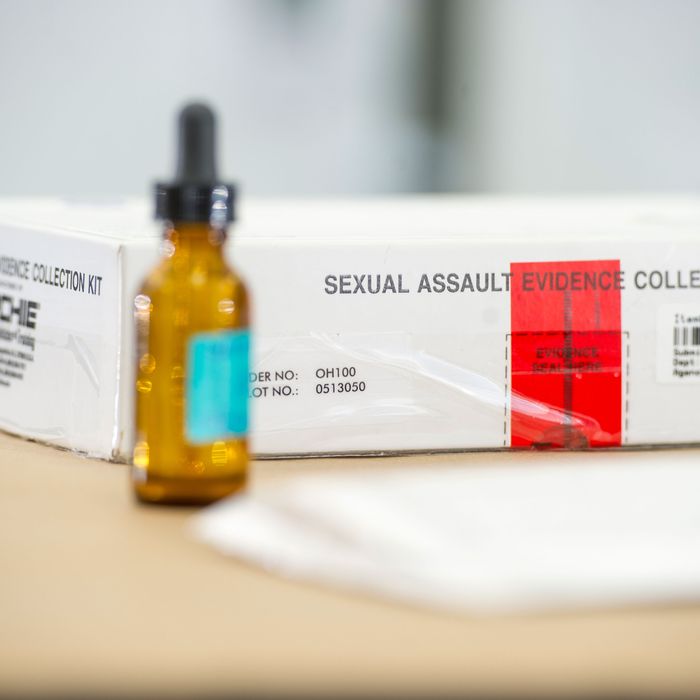 A sexual assault evidence collection kit.
Photo: The Christian Science Monitor/Getty Images
On Monday night, the Senate passed a bill outlining basic rights for survivors of sexual assault (the first time a federal law has done so, ever). Equally important: It places particular emphasis on solving the country's backlog of untested rape kits.
Passed by a unanimous Senate vote, the Sexual Assault Survivors' Rights Act would give survivors the right to have rape kits preserved for the entire relevant statute of limitations (the limited period of time in which a survivor can file charges after an assault). If a kit is going to be destroyed, survivors would be notified in writing 60 days prior to the date and could request extended preservation of the kit. They could also be informed of important results from forensic exams. 
This all seems pretty … essential, right? The legislation is a federal model; if passed by the House and signed by President Obama, it would guide states in overhauling their own systems. Senator Jeanne Shaheen, a New Hampshire Democrat, co-authored the legislation with Amanda Nguyen, a 24-year-old sexual-assault survivor who is still required to return every six months to Massachusetts (where she was assaulted) so that her rape kit can't be destroyed.
"Basically, I had to pen my own rights into existence," Nguyen recently told The Guardian. "The system essentially makes me live my life by date of rape." Nguyen founded Rise, an nonprofit that protects the rights of sexual-assault survivors, and works as a State Department liaison to the White House. She's also training to become an astronaut.
"You do have rights, we do care about you, if you choose to come forward, we are going to be there for you," Senator Shaheen said on the Senate floor. "And we are going to ensure a justice system that treats you with dignity and fairness."
Over 100,000 people have signed a change.org petition supporting the bill.