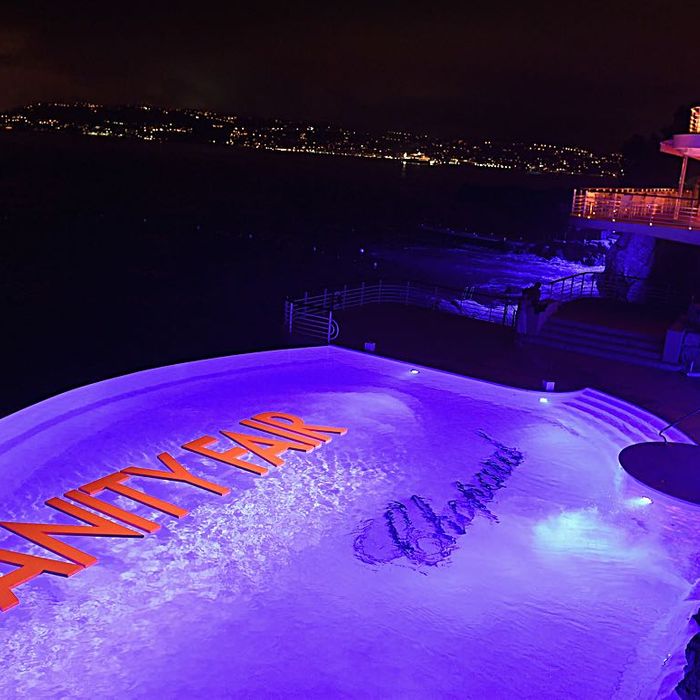 Can you even?
Photo: George Pimentel/2016 George Pimentel
Where's Leonardo DiCaprio? should have been named the official game of the Vanity Fair/Chopard after-party to a Vanity Fair/HBO dinner at Hotel du Cap-Eden-Roc in honor of the Cannes Film Festival.
Just like at the Oscars VF party, which he reportedly left after less than an hour because of too much well-wishing, Leo's whereabouts were all anyone in the room wanted to talk about: "Leo's here!" "Did you see Leo?" "Where's Leo? Wait, where?"
 
Mostly, he was in a corner by the outdoor DJ booth — sequestered not by an actual VIP rope, but by an invisible barrier of intimidation that happens whenever too many famous people gather in one 20-foot radius. If you missed him, he was the guy in the golf hat loudly doing his impression of what sounded like Jurassic World's Indominus Rex for The Great Gatsby bud Joel Edgerton and a T-shirt clad Tobey Maguire. Yes, ladies and gents, the Pussy Posse or the Wolf Pack, whatever they're calling it, rides again, this time in France

Later on they were joined in their corner by Salma Hayek, who clearly knew everyone, and Kendall Jenner, who clearly did not, and just stood awkwardly in her very leggy, fringed gown by the DJ booth with Vanity Fair's Derek Blasberg. Leo seemed to clock her presence, but they then spent some 40 minutes standing with their backs toward each other. The new game became, Will Leo and Kendall Actually Speak? Spoiler alert: They did not. 

Elsewhere, Russell Crowe talked for what seemed like two hours with Jodie Foster and her wife, photographer Alexandra Hedison. Faye Dunaway glided through the room like only Faye Dunaway can. Kirsten Dunst let loose a little on a break from her duty of early morning screenings on the Cannes jury, as did excellent dancer Chloe Sevigny, who directed a short film, Kitty, that's closing the prestigious Critics' Week competition. Heidi Klum hung out at the bar with beau Vito Schnabel. Mark Rylance, who'd come straight from his premiere party for Steven Spielberg's The BFG, was wearing a bowler hat and what looked like an ivory dressing gown with a tuxedo blazer. A friend wondered aloud if he was waiting or Peter Pan to arrive, which was the perfect outfit description. And good ol' Mick Jagger was back for a second night in a row at the du Cap.
Alas, Colin Firth and his lovely Italian wife, Livia, came to the Vanity Fair/HBO dinner earlier in the evening, but didn't make it to after party, so we couldn't ask Firth to jump into the venue's pool, decorated with giant orange cutouts reading "Vanity Fair" floating on the water, and then pull himself out in a dripping wet white shirt so we could film it in slow motion. But trust us, when that opportunity next arises, we will make it happen.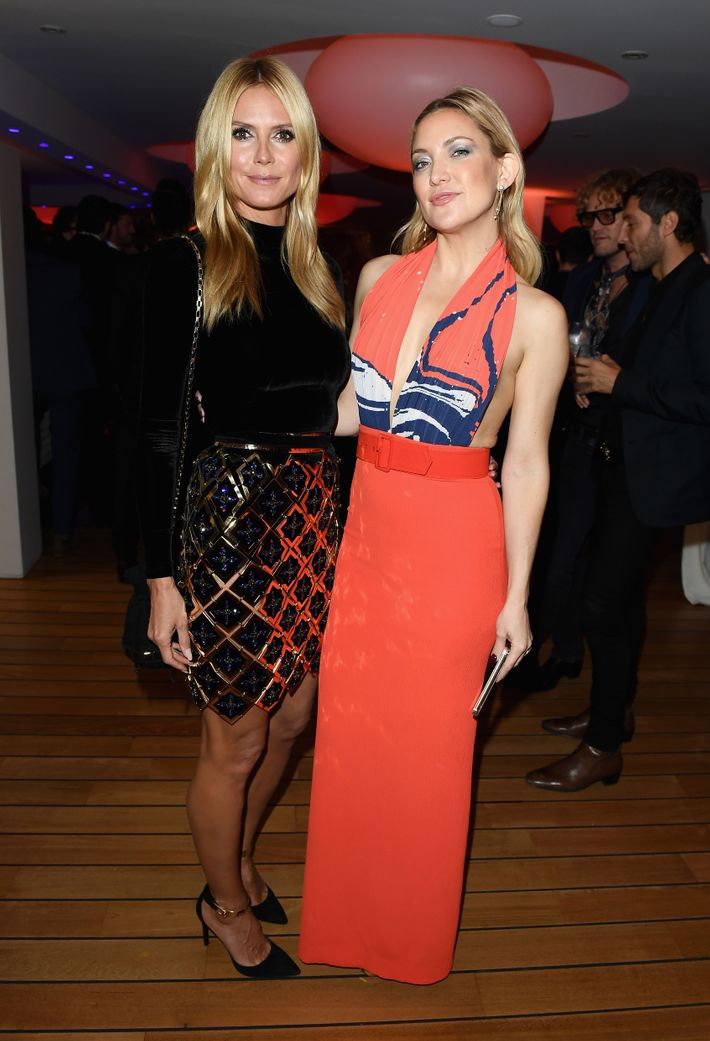 Heidi Klum, Kate Hudson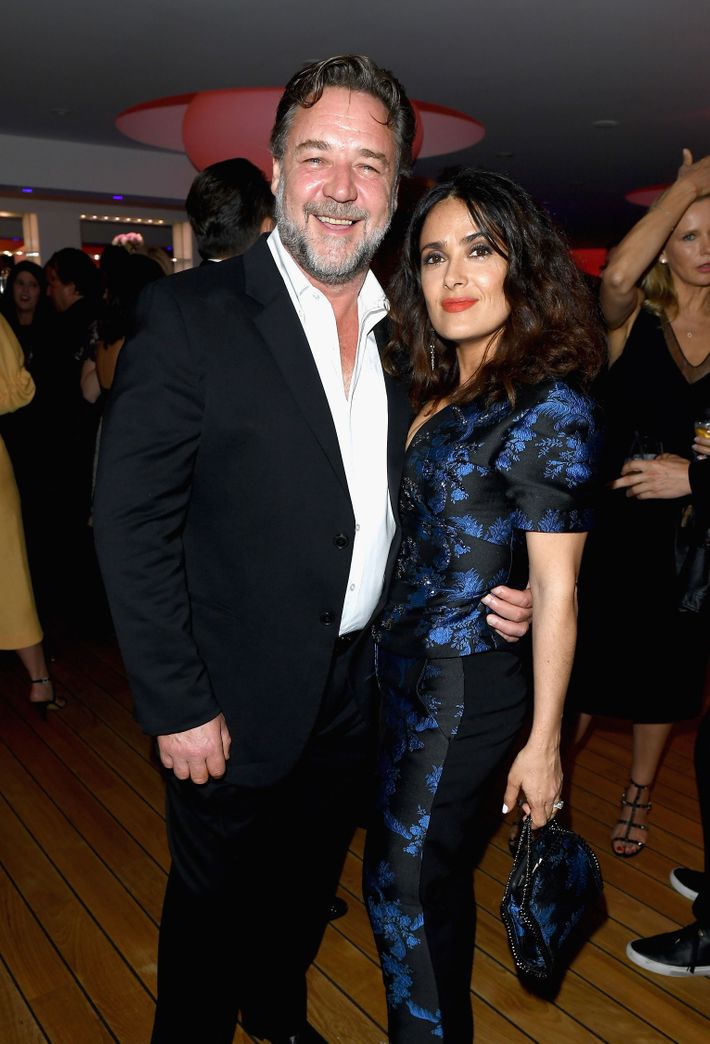 Russell Crowe, Salma Hayek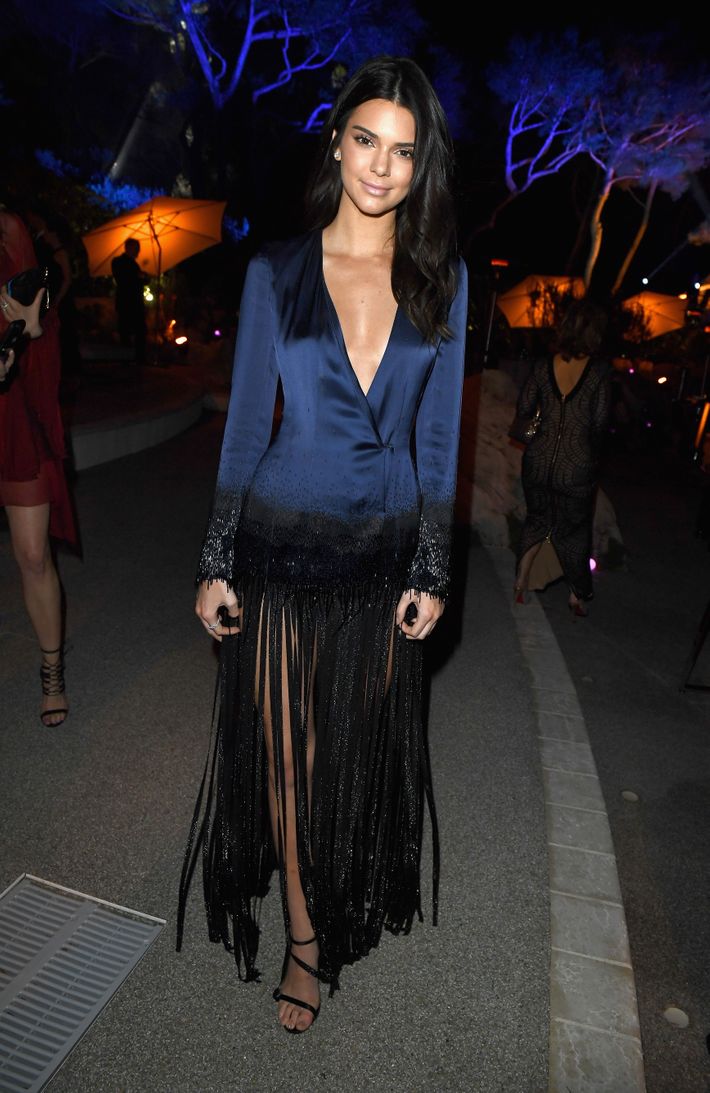 Kendall Jenner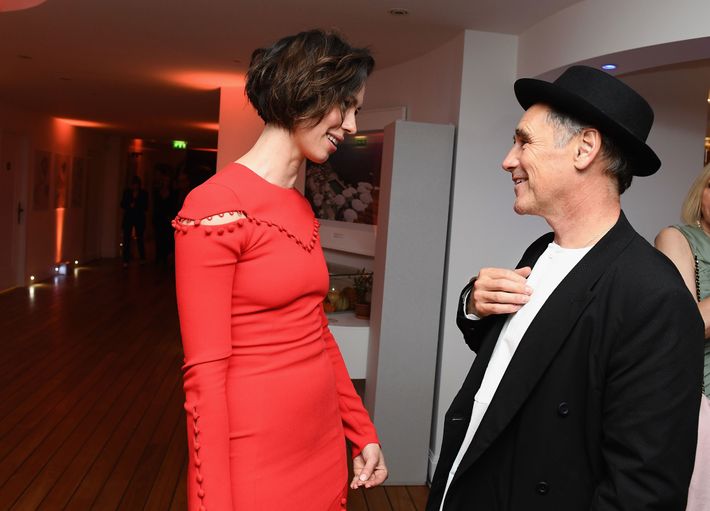 Rebecca Hall, Mark Rylance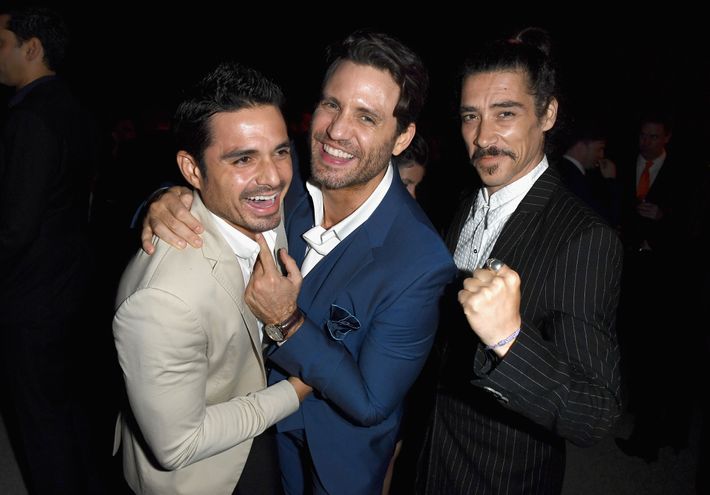 Robin Duran, Édgar Ramírez, Óscar Jaenada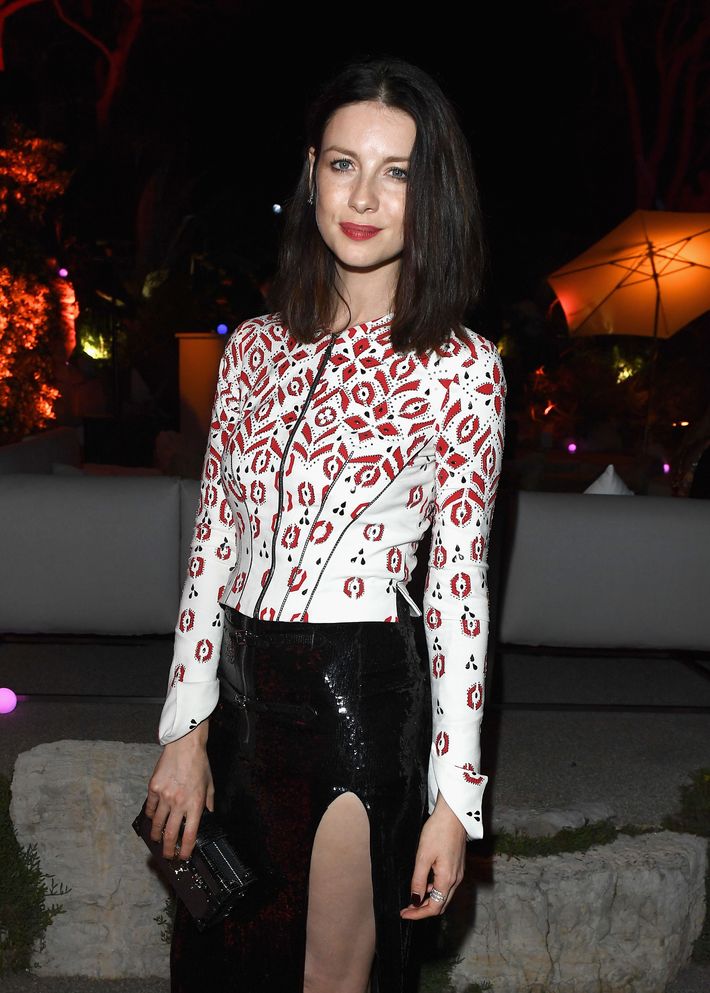 Caitriona Balfe
What: Jewels by Repossi.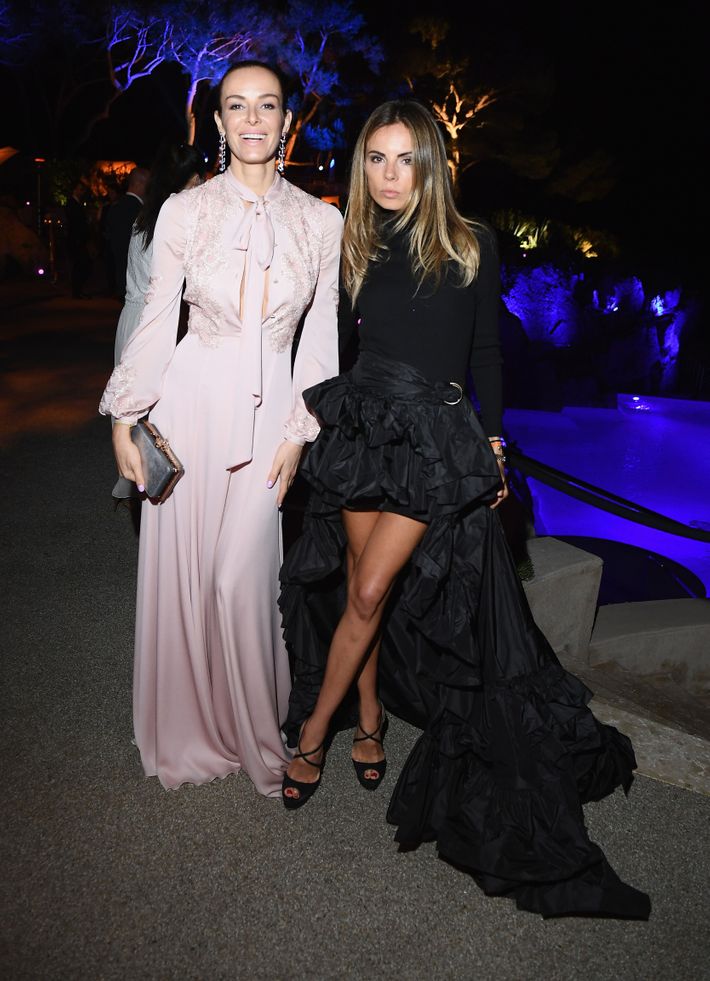 Carolina Parsons, Erica Pelosini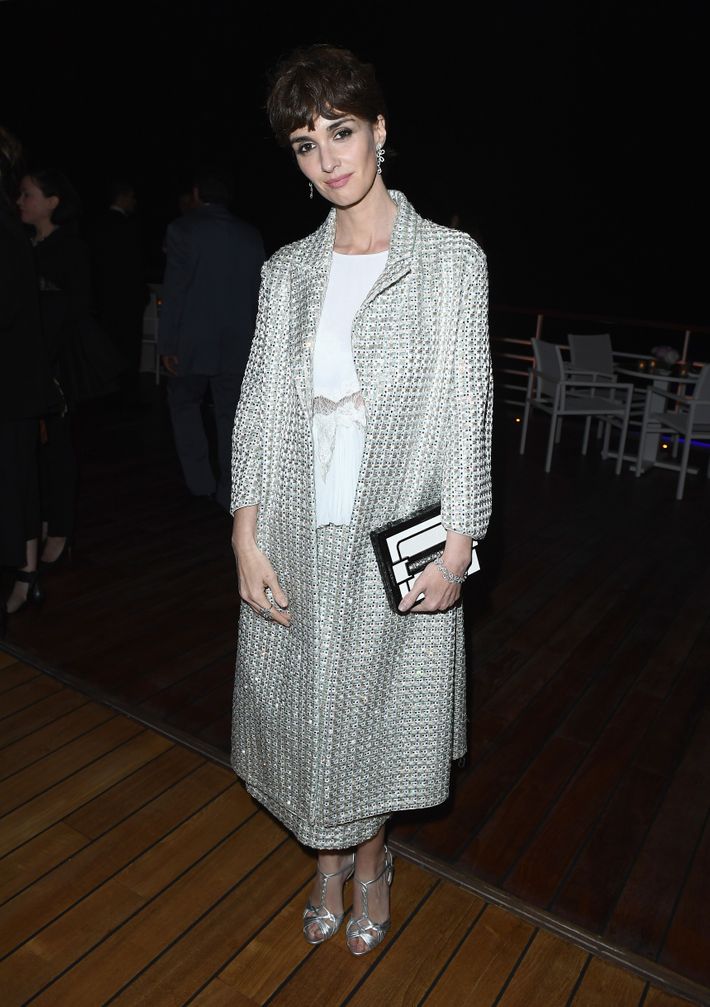 Paz Vega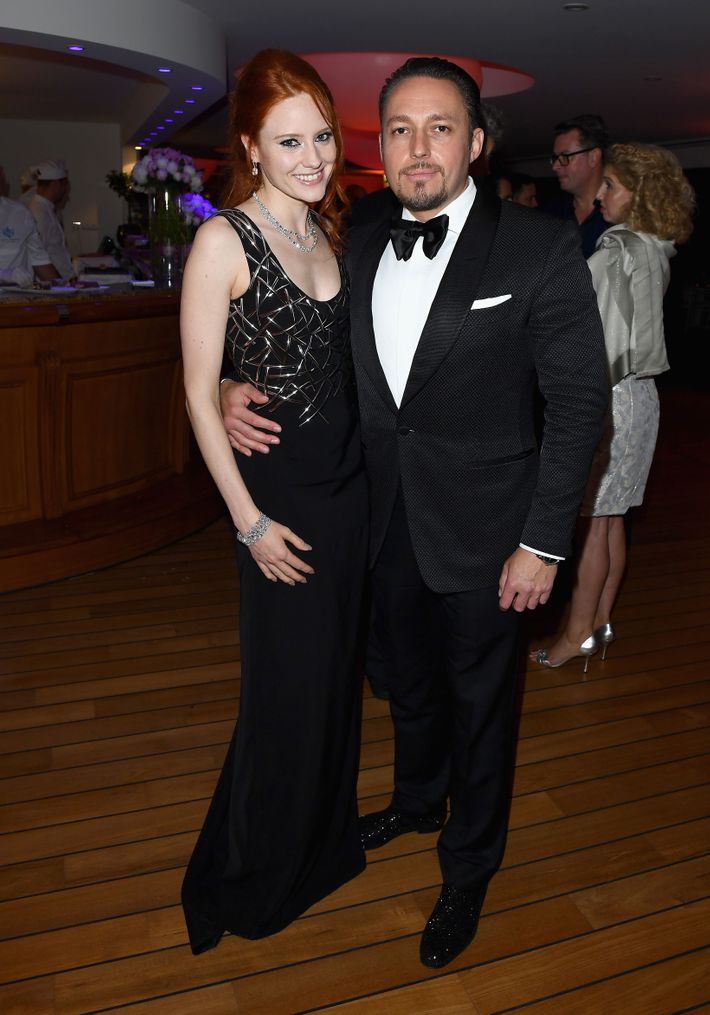 Barbara Meier, Klemens Hallmann