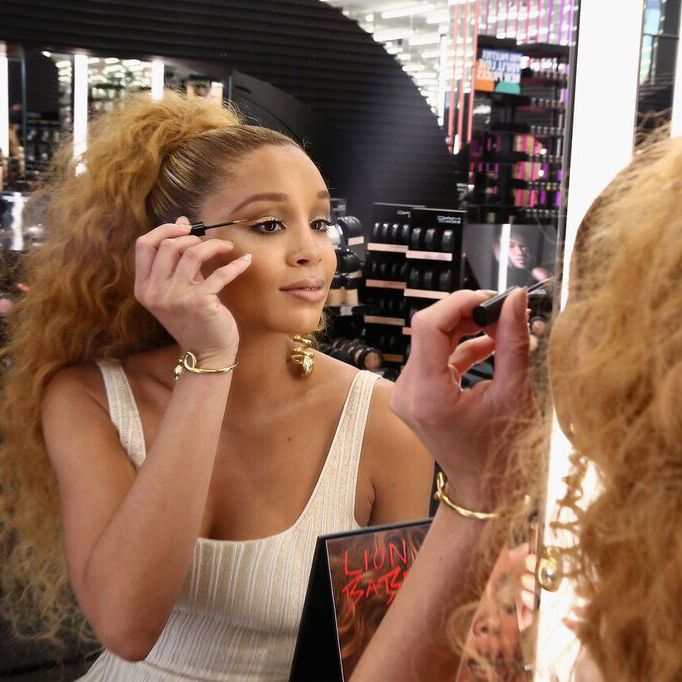 Jillian Hervey at M.A.C. Union Square.
Photo: Getty Images
This month, M.A.C Cosmetics rolled out liquid gold eyeliner with their newest collaborator, Jillian Hervey of Lion Babe. Maybe you've previously mistaken her modern funk tunes for Erykah Badu, or were able to catch her duo at Afropunk last year. If not, the dancer turned singer (whose favorite Tumblr is Fuck Yeah Famous Black Girls) joins Halsey, Tinashe, and Dej Loaf with the cosmetic line's Future Forward campaign. The Cut talked to Harvey about what it's like to get so much attention for your look as an artist, growing up with a Miss America as your mom,  and how she came to accept herself.
What was it like growing up with the first African-American Miss America [Vanessa Williams] as a mom? How did she influence your idea of beauty?
At the time that she won, she didn't realize what kind of impact she was making. That was obviously an amazing opportunity, but there was a lot of backlash. To see how graceful she is and how resilient she was — that has been the greatest thing to follow, because it makes me feel like all of my problems are tiny.
We grew up in a very white neighborhood — she always made it a point that you're going to have to be even better just to be equal, but also do it for yourself. Challenge yourself to be your best instead of thinking about what anyone else has done. I've grown — luckily just being in New York I've been able to connect with so many people of color. It's so exciting to have this part of life I always imagined.
I definitely wasn't like how I am now. I went through things. I didn't like my hair; I was like, Why are my thighs bigger than everyone else's? All the things that actually ended up being my attributes, that I love, were my issues. It wasn't an issue of not liking them; it was not having a reference point. I think that's why I ended up turning to music and people I saw as examples, like Lauryn Hill, and Brandy — they're cool, they're rocking it. It was identifying at an early age that I was very different from everyone else and being comfortable with that. A lot of people handle it in different ways.
You started out as a dancer, and have a song with the lyrics, I got body, no matter what I wear. Did you always feel comfortable in your body?
I still see the world through a dancer's eyes, so I relate to people through their body language. Staring at yourself in the mirror every single day for years, you get the comfortability. You do get challenged. You can think about all that stuff every time you look at yourself, or you could also work on your alignment, be in a safe space with people, and move through things.
Nothing makes me more excited than dance, still to this day. People ask me if I get nervous onstage, but onstage I feel super comfortable because I've had so much practice with it. I think I'm just a sensual person and I want to experience whatever rush I'm feeling, all the way from my fingertips and out. It's all energy.
You're a Gemini. How does astrology inform your aesthetic?
I definitely inherited that from my mom, she's always been like, This is the birthday book, you have to read it, and [she] is super into all that. She's like, This is because you're left-handed and a Gemini. It's a nice thing, a nice reference. For me being a Gemini makes a lot of sense because I do have this dual life and I've always been that way. I love Susan Miller. I try to avoid her app, but I can't. Susan, can we send you a care package or something?
Do you always like the attention you get for your hair? Why did you go with eyeliner for your first beauty collaboration, and not a hair-related product? You're known for your curls!
I want to be known for my voice. I don't actively seek these kinds of opportunities. I think eyes are windows to the soul and my eyes are one of my favorite features. I always to do a cat eye and I love to enhance my natural almond shape.
[The attention] is something I'm learning to get comfortable with. It's an amazing thing, but sometimes, you don't really escape your little childhood self, so it doesn't make sense sometimes. I would never do something that didn't feel like me. I love perfume, but if the product didn't relate to me I wouldn't do it. That goes with the territory of being in this industry, getting those kinds of opportunities. But at the end of the day, it's a great way to bring people into my world.
 This interview has been condensed and edited.