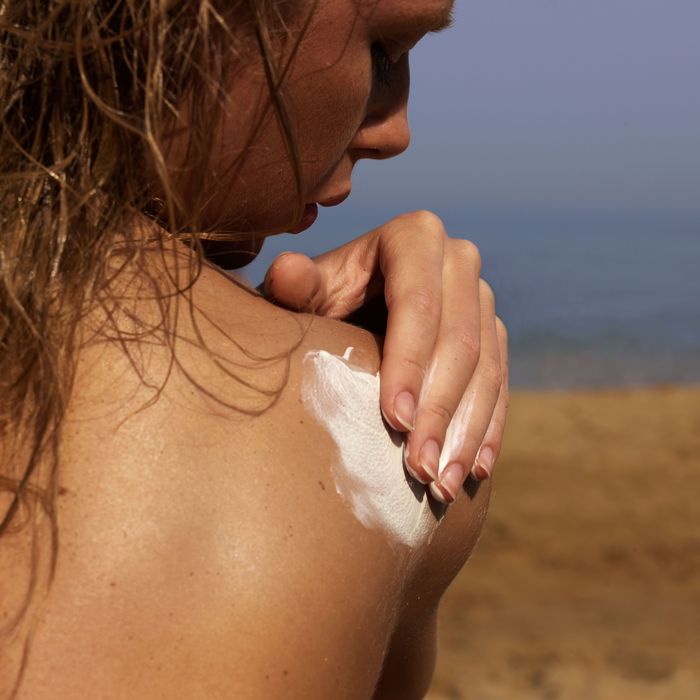 Photo: Jonathan Storey/Getty Images
Everything-truther Consumer Reports recently tested 65 sunscreen lotions, sprays, and sticks rated SPF 30 or higher and found that 28 of them — or 43 percent — actually offered less protection than advertised.
Banana Boat Kids Tear-Free, Sting-Free SPF 50 lotion, and CVS Kids Sun Lotion SPF 50 actually tested at SPF 8; both companies told CBS that their claims are correct and that they meet Food and Drug Administration testing requirements. Mineral sunscreens that rely on titanium dioxide and/or zinc oxide as the active ingredients were less effective than chemical ones with avobenzone.
This whole thing is, in a word, uncool. Using sunscreen helps prevent skin cancer and premature aging and it sucks to think you're more protected than you are. The magazine says that the FDA requires manufacturers to test their own formulas and most don't have to submit the results; they just keep the data on hand for possible audits.
Consumer Reports editors suggested buying chemical sunscreens with SPF 40 or higher to ensure that you're really getting a product with at least a 30 rating. (There really aren't many SPF 40 products so this basically means 50. No need to get SPF 75 or 100 because they only block a fraction more rays.)
The full list of best and worst is behind a pay wall but today.com broke out the five best-rated lotions and sprays:
Lotions
• La Roche-Posay Anthelios 60 Melt-In Sunscreen Milk ($27)
• Pure Sun Defense SPF 50 ($15)
• Coppertone Water Babies SPF 50 ($9)
• Equate Ultra Protection SPF 50 ($7.50)
• No-Ad Sport SPF 50 ($13)
Sprays
• Trader Joe's Spray SPF 50+ ($17)
• Banana Boat SunComfort Continuous Spray SPF 50+ (two for $27)
• Neutrogena Beach Defense Water + Sun Protection SPF 70 ($9)
• Caribbean Breeze Continuous Tropical Mist SPF 70 ($17)
• Equate Sport Continuous Spray SPF 30 ($8)
And here's a friendly reminder not to rely on sunscreen alone as your barrier method: Hats and sun-protective clothing, like rash guards, are also your friends.