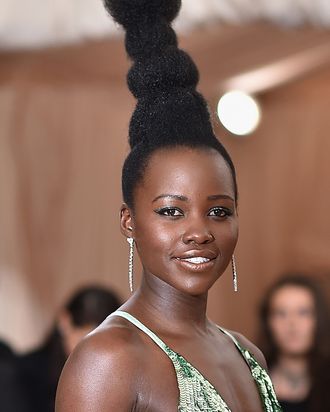 Lupita Nyong'o is a queen.
Photo: Dimitrios Kambouris/Getty Images
When the internet saw Lupita Nyong'o's sculptural hairstyle at the Met Gala, the memes began. Some compared the towering hairdo to Dr. Seuss, while others alleged that it was inspired by Marge Simpson or (more flatteringly) Audrey Hepburn. The Fat Jew even called it a "hair erection head dildo" while suggesting the style looked similar to his own. Today, Nyong'o took to Instagram to graciously respond to the haters, posting a short video of her real hair inspiration: the strong, molded hairstyles of African women.
When talking to André Leon Talley on the vogue.com livecast, Nyong'o said her coiffure came from looking at pictures of "sculptural hairdos all around the world." And NPR interviewed Lori Tharps, an assistant professor of journalism at Temple University and co-author of Hair Story: Untangling the Roots of Black Hair in America, about the style. She thinks that it was African-inspired, explaining that in African hair history, towering sculptural hairdos were a sign of affluence and luxury and could signify background and rank.
Thanks, Nyong'o, for the very necessary hair schooling, and for reminding us that when it comes to talking about the nuances of black hair, everyone can use a little more awareness and education.