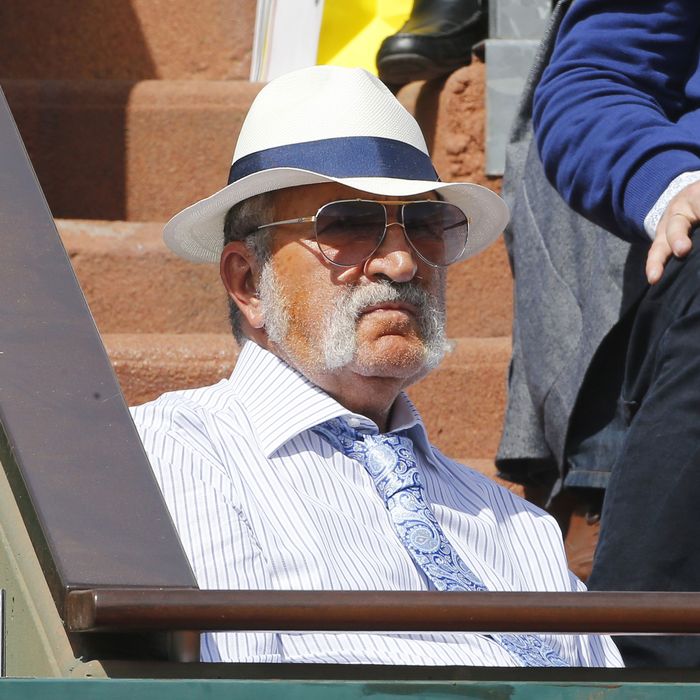 Ion Tiriac.
Photo: Jean Catuffe/Getty Images
Compared to the rest of the sports world, tennis has historically been the one sport where female athletes have been treated most equal to male athletes. After a push by tennis legend Billie Jean King in the '70s, women athletes have been granted the same prize money as men in all tournaments that are held by the Association of Tennis Professionals (ATP) and the Women's Tennis Association (WTA), which includes all four Grand Slam tournaments and a few others. But that doesn't mean men have to like it!
Only two months ago, Raymond Moore, the CEO of the Indian Wells Tennis Garden, suggested that "lady players" were "very, very lucky" that male players had carried the sport for them thus far, remarking that women should "get down on their knees" to thank those big sports men for doing so. Moore resigned two days after his comments began to attract attention. His remarks were followed up by tennis pro Novak Djokovic, who said maybe this whole equal-pay thing doesn't make sense.
One would think that anyone aiming to contribute to the tennis equal-pay conversation would now actually, you know, think before they said anything. But here comes Ion Tiaric, founder of the Madrid Open, with another fresh round of what-the-hell:
"I like, very much more, women than men," said Tiriac, a 76-year-old Romanian billionaire. "All my life, I've done that. The longer the legs theirs are, the more beautiful I think they are. Even in tennis, they're gracious and so on. But I don't see the equal prize money being the status. Maybe they deserve more? Pay more the women if they deserve."
And that's not all! Tiaric went on to say that women "are not equal" and that he prefers women on the court because they "are beautiful on the court." "Even Federer, who is very elegant," Tiaric added. "I prefer an elegant woman, not Mr. Federer. But they are not bringing to the table the same thing." But does that mean that they deserve equal pay? Not according to Tiriac. "I think we have to go and calculate how much money are the men putting on the table, and how much the women, with TV rights. Because otherwise we have to compensate, and compensate, and compensate, and you cannot compensate forever," the billionaire said.
When asked about the latest controversy coming out of Madrid, Venus Williams said that as long as people think men and women aren't equal, this conversation needs to keep happening. But she expressed a fair bit of frustration on the matter, too: "There's always something, seems like," she said. "I just want a quiet year at this point. Can't we just play tennis?" Indeed.