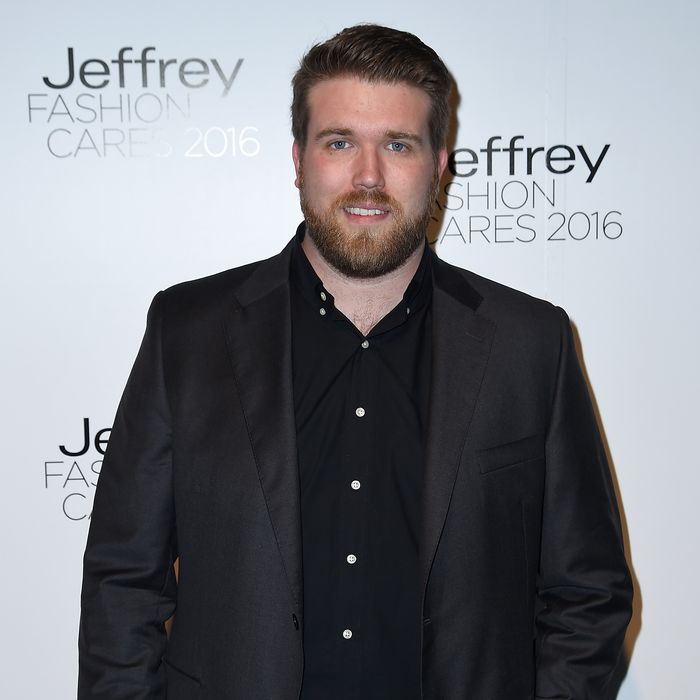 Zach Miko. Photo: Nicholas Hunt/Getty Images
IMG started its new label, Brawn — a division for plus-size men — in March, and with the label came actor turned plus-size model Zach Miko. Miko, 26, is Brawn's first and only dude to sign with the label, reports the New York Times. Miko, who appeared in The Wolf of Wall Street, has also been a voice for body positivity as he's made his modeling switch.
He has more than 58,000 Instagram followers, many of whom are young people who struggle with body image and look to Miko as someone who doesn't let society's standards get him down:
"I was always the big kid who felt like the outsider. For me, the coolest thing about this is the idea that kids like me can look at a website or a magazine and see somebody their size instead of these Adonises. I think that's going to do amazing things for their self-esteem."
And even at high-profile fashion events, he keeps it casual, in what the Times calls the style of "the running back who stole your heart in high school." On par with this statement, Miko wore Levi's to the Jeffrey Fashion Cares celebration last month. Refreshing, brawny, whatever you want to call him — dude's making his mark via IMG president (and Oprah-lover) Ivan Bart's new venture.*
*This post has been corrected to show that Bart admires Oprah; this was previously attributed to Miko.