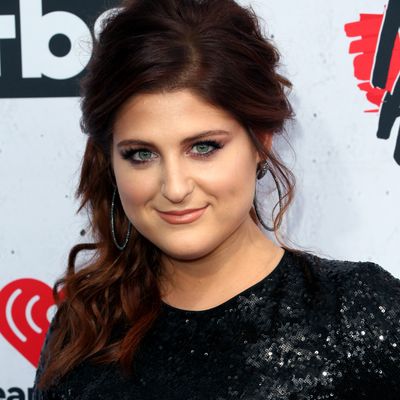 Meghan Trainor.
Photo: Frederick M. Brown/Getty Images
A few hours after releasing her music video for "Me Too," in which she cruises around L.A. wearing a giraffe suit and generally having a jolly old time, Meghan Trainor announced that she was taking the video down because her body had been digitally altered without her permission.
"Hey guys, I took down the 'Me Too' video because they photoshopped the crap out of me," an exasperated-looking Trainor explained via Snapchat. "And I'm so sick of it and I'm over it, so I took it down until they fix it."
"My waist is not that teeny, I had a bomb waist that night, I don't know why they didn't like my waist, but I didn't approve that video and it went out for the world, so I'm embarrassed" she continued. "The video's still one of my favorite videos I've ever done, I'm very proud of it, I'm just pissed off that they broke my ribs you know?"
Trainor joins a long list of female celebrities who have recently spoken out against egregious Photoshopping, including Kerry Washington, Rumer Willis, and Lena Dunham. Trainor has been vocal about embracing her natural body type, and her breakout hit, "All About That Bass," was billed as a body-positivity anthem (whether it actually is remains up for debate), so it's pretty understandable that she would be pissed about being digitally slimmed-down.
Cool idea: How about we all agree to stop altering women's bodies without their permission?