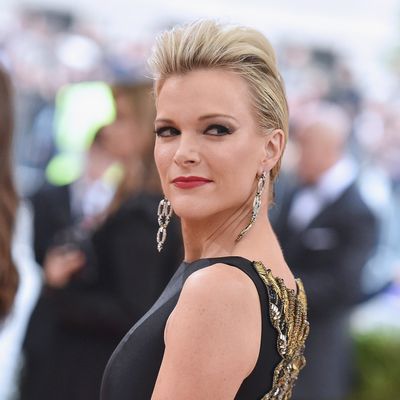 Trump who?
Photo: Mike Coppola/2016 Getty Images
By now Megyn Kelly's feud with Donald Trump is the stuff of legend, and on Tuesday night it will culminate in a Fox News special in which the two sit down for their first interview together in almost a year. Back in April, Kelly visited Trump Tower specifically to "clear the air" with him and request the interview, which some see as a power move on her part to prove her worth just before her Fox contract expires. And while there's no doubt Kelly has become a household name this election season, she's adamant that Trump isn't the cause of her success.
Trump — an expert at taking credit for things he didn't actually do — has credited himself for Kelly's stardom: "She's benefited greatly," he told CNN's Wolf Blitzer in March. "She's hotter now than ever before because of me. She should give me at least half of her salary." But during an appearance on The Late Show Monday night, Kelly disputed his claim.
"I have worked for everything I've ever had," she told Stephen Colbert. "I put myself through law school, I clawed my way up, I worked for nine years as a corporate attorney to pay off my debt, I got my own job in journalism paying $17,000 a year, I worked my way up to prime-time Fox news, I had the No. 2 show in all of cable news, and then I had an August debate with Donald Trump."
There are, she said, "uncomfortable" moments, but overall the tone is "cordial." "My goal this past year has been to conduct myself with dignity and like a professional," she told Colbert, which is how she spun success from the whole Trump mess in the first place.