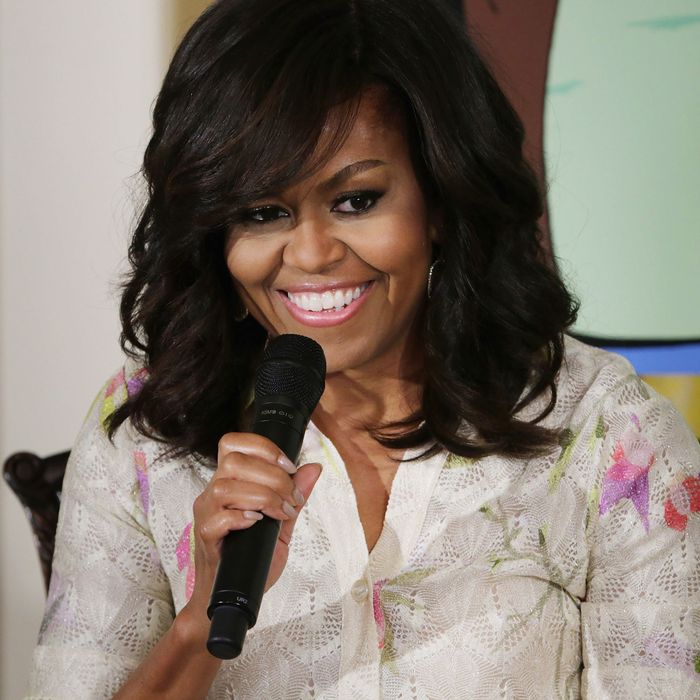 Michelle Obama.
Photo: Chip Somodevilla/Getty Images
Growing up near Santa Fe, New Mexico, we were used to being a forgotten state. Sixth-least-populated, part of Mexico till 1912, consistently neck-and-neck with Mississippi in poverty rates. People from elsewhere in the U.S. used to, without irony, compliment me on my English, ask me what kind of money I used.
And the perception flowed both ways: We reveled in being a land apart, populated long before America was even an idea, where gringos were the minority and political power rested with Hispanic families who'd settled at least 400 years earlier, as well as numerous Native American Pueblos who had sovereign-nation power to do what they wanted with their vast tracts of land, much of which they'd merely leased to the government for things like highways and schools. (My elementary school, built on Pueblo land and reclaimed in the late '80s, is now a casino.) Spanish and the native languages of Tewa, Tiwa, and Towa were taught in public schools, starting at kindergarten. Every morning I'd say the Pledge of Allegiance in Spanish and then my native friends would sing their own national song. 
So it feels miraculous, and like something particularly special about this administration, that last week Michelle Obama showed up from D.C. for the sole purpose of giving the commencement address at the tiny Santa Fe Indian School — non-p.c. nomenclature dies hard in these parts — which has a graduating class of fewer than 100. And it sounds like all they had to do was ask: "I heard that when you were first brainstorming about who to invite to your commencement and someone suggested me or my husband, some of you thought that that was an impossible dream, that it just wasn't realistic to think that people like us would ever visit a school like yours," she said in her speech. "Well, today, I want you to know that there is nowhere I would rather be than right here with all of you."
The history of the Santa Fe Indian School is both painful and triumphant; started by the U.S. government as a means of enforced assimilation, ripping children from their families, it's now run by the 19 Pueblo governors with a mission of preserving native culture. "As we all know," said the First Lady, "this school was founded as part of a deliberate, systematic effort to extinguish your culture; to literally annihilate who you were and what you believed in. But look at you today. The Native languages that were once strictly forbidden here now echo through the hallways and in your dorm room conversations at night." Nearly every member of the graduating class is going to college, many of them to the Ivy League, with a collective total of $5 million in scholarships. Valedictorian Emanuel Vigil, a member of the Jicarilla Apache Nation, is going to Columbia University this fall.
The First Lady drew a line connecting that history of oppression to the one borne by her own ancestors: "I am the great-great-granddaughter of Jim Robinson, who was born in South Carolina, lived as a slave, and is likely buried in an unmarked grave on the plantation where he worked. I am the great-granddaughter of Fraser Robinson, an illiterate houseboy who taught himself to read and became an entrepreneur, selling newspapers and shoes."
She praised the students for joining a long line of defiance in the face of extreme adversity. "I'm talking about your ancestors who came together to lead a revolt, risking their lives to preserve their traditions. I'm talking about your predecessors at this school who defied the rules by speaking their languages and running away to attend ceremonial dances back home. And I'm talking about the leaders who reclaimed and reopened this school for you, rebuilding it in your image and the image of your communities." She urged them to go out into the world and spread a message of tolerance and respect for the Earth that is inherent in their culture, and to persevere even when college got tough and they felt like giving up, knowing how much their communities needed them.
"And you don't need your First Lady to tell you that," she said. "All you have to do is tune in to the news and you'll see that right now, some of the loudest voices in our national conversation are saying things that go against every single one of the values that you've been living at this school. They're telling us that we should disrespect others because of who they are or where they come from or how they worship. They're telling us that we should be selfish — that folks who are struggling don't deserve our help, that we should just take what we can from life and not worry about anyone else. And they're saying that it's okay to keep harming our planet and using our land, our air, our water however we wish."
"Standing here today with all of you," she went on, "I am filled with hope. It's the same hope I feel when I think about my own story — how my great-great-grandfather was another man's property, my great-grandfather was another man's servant, my grandparents and parents felt the sting of segregation and discrimination. But because they refused to be defined by anyone else's idea of who they were and what they could be, because they held fast to their impossible dreams for themselves and their children, today, my two daughters wake up each morning in the White House … So graduates, in closing, I hope that you will always remember your story, and that you will carry your story with you as proudly as I carry mine. I am so proud of you. I am so excited for you to continue this extraordinary journey." Read her full speech here, or watch it here.