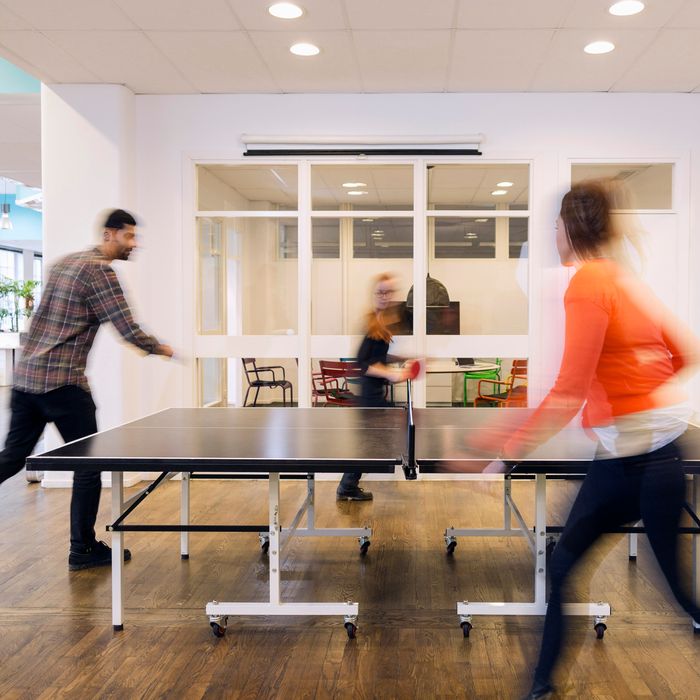 Party on.
Photo: Maskot ./Getty Images
In our latest dispatch of What Are the Millennials Doing Now?, we've learned from new research by Gallup that millennials, if you can even believe it, are less interested in working in a creative, fun workplace than baby-boomers are. Huh, so that's who all those ping-pong tables are for.
The study found that millennials aren't actually looking to goof off and get wasted on free beer all day at work. Brandon Rigoni, a researcher on the study, writes, "Contrary to popular perception, Millennials place little importance on a company encouraging creativity or being a fun, informal place to work," while baby-boomers are a little different. "Baby Boomers are slightly more likely than Millennials and Gen Xers to say that creativity and fun are 'extremely important' to them when applying for a job." Well, well, well. Who is slacking off on the job now?
Instead, while the study found that overall millennials were the generation "least engaged" at the workplace, they were also the generation who put the highest importance on "opportunities to learn and grow and opportunities for advancement." If you want to know how to hold on to a millennial in the workforce, Rigoni and co-researcher Amy Adkins explain that you should treat us like we're not so different from our elders. "They look for growth opportunities, great managers, and jobs that are well-suited for their talents and interest." Screw ping-pong!