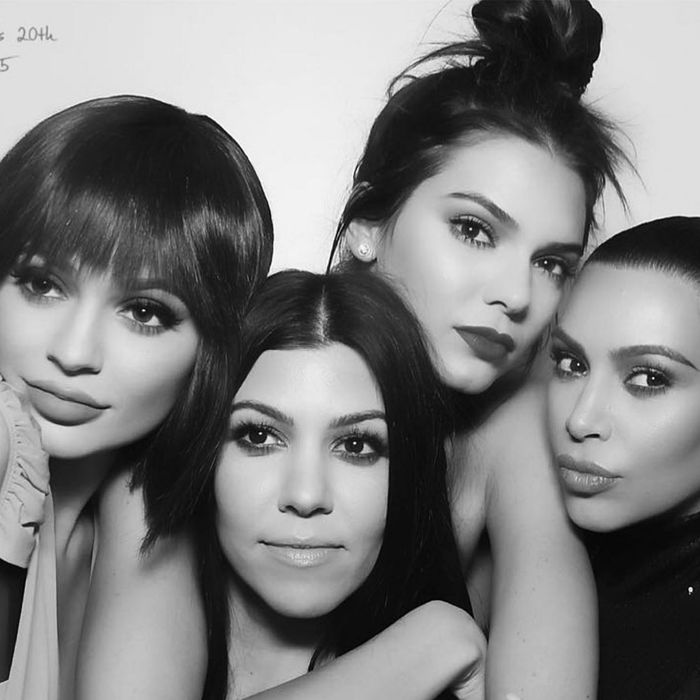 It's the mirmir Kardashian photobooth.
Photo: Kim Kardashian/Instagram
When it comes to Kardashian-ing, the internet has done it all. We've eaten salads like a Kardashian, tattooed like one, and enacted revenge like one. Thousands of people even broke Google to make their lips look like one. On Tuesday, I conquered the final frontier: I took a photo like a Kardashian. 
The legendary Mirmir photo booth first rose to fame with a supporting role at Kimye's wedding, where it was imported roughly 6,000 miles from California to Italy so that Kimye, Chrissy Teigen, Becky with the Good Hair, and other already-beautiful celebrity guests could take extra-beautiful photo-booth images. A Mirmir image posted on Instagram by Kim Kardashian BFF Jonathan Cheban was the first "official" picture revealed from the event. Since then, the photo booth has become a mainstay at Kardashian Christmas parties and other fancy Hollywood shindigs. It even made an appearance at Kourtney Kardashian's bee-sy tour of New York.
The Mirmir is special because everyone looks like a celebrity in the lens, even without hair, makeup, or styling. "People often tell us it's one of the best photos they've ever taken," says Ryan Glenn, a Mirmir co-founder. "They tell us they frame the picture and put it in their house, which isn't something you hear everyday."
Each photo booth also gets a custom light setting for the venue "to get that perfect exposure," says Spencer. The actual lighting settings are much-guarded — all Glenn and Spencer would tell me is that they use "diffused" light.
Then there's the secret sauce: the so-called "skin filter," which the team spent several years developing. Automatically applied to every photo, it has the unusual effect of both smoothing and contouring the face. "It makes people look pretty good" is how the team modestly described it. Racked analyzed some Kardashian photos and concluded that it uses a mix of blurring and softening filters to make you look poreless and enhance your features.
Even with all these features, there's still the possibility of not looking so great. "A lot of people take bad photographs," says Glenn. The final safeguard to ensuring you photograph like you have an E! series are the two Mirmir employees who man the booth, tell you how to pose, and even take the picture for you. "All of our staff are professional photographers, who do this for a living. They'll tell you the best way to post for the way your chin sits. And it's specific to every single person that comes through it, even if it's a thousand people a night."
At an event for Becca Cosmetics, I finally saw the photo booth in person. "OMG, it's the Mirmir!" I said excitedly. "You have a murmur?" asked the editor next to me.
No one else appeared to recognize it. Many of the Instagram-famous beauty bloggers continued taking selfies with their Lumees and Tylights, ignoring the photo booth completely. Fools, I thought, stepping into the photo booth with my friend Felicia, who had already attested that it was "amazing."  
For the first picture, the Mirmir gentlemen let me attempt to pose on my own. But after seeing me stare into the camera like a deer in headlights with bared teeth, one of them then chivalrously offered some pointers. "Turn this way," he gently instructed, positioning me into the same three-quarters pose that Tyra Banks recommends in every episode of America's Next Top Model. "Point your face up a little, and chin toward the camera. And a little attitude!" he said, making a kind, goofy face. Just as I laughed, he pressed the shutter to capture the moment.
"Ugh, apps that blur your face can be so bad for self estee — oh my god, I look amazing," I said as I walked over to the printing machine and surveyed the photos. I had entered the photo booth with lightly frizzy hair, a shiny face, and weakening under-eye concealer. The Mirmir somehow made my hair smooth like an otter pelt, blotted my face, added some cheekbones, and erased my under-eye circles, along with any negative thoughts I had about blurring apps. Blur my face away, Mirmir! The only thing it didn't do was curl my eyelashes, but perhaps that's an innovation for Mirmir 2.0.
I thought of the possibilities of a life with Mirmir. Maybe I could use it to get a professional head shot. Maybe I could finally learn to smize. Maybe as Gandhi once sort of said, I could be the change I wanted to see in the world. Would we even need selfies? Would embarrassing high-school-yearbook pictures cease to exist if each school had Mirmir sittings instead? And if so, what would Planet Hollywood print on their place mats?
Glenn and Spencer forgot to mention the final safeguard: The photo booth has a reflective mirror over the lenses so that you know exactly how you look, in case you don't trust their experts. It even comes prepared with a little "apple box" so you can cheat your height like Tom Cruise if you're dramatically shorter than everyone else. And so I returned to the photo booth four more times. Each time, the Mirmir employees directed me to a new optimally beneficial pose.
I have now completed the full 12 steps to Kardashian ascension. And it feels good. For our next company get-together, I will be suggesting that we cut the liquor budget so that everyone can experience the brief joy and power of being a deluded hot monster.