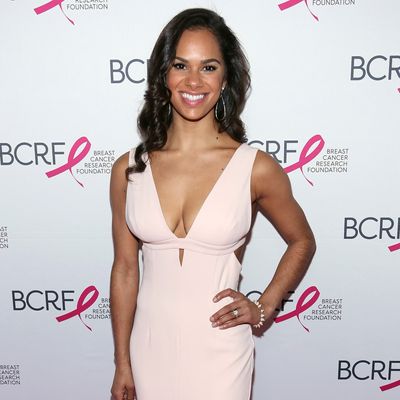 Misty Copeland.
Photo: Rob Kim/Getty Images
Continuing to inch closer to the reality of what women's bodies really look like, Barbie made a Misty Copeland doll. Copeland unveiled the new toy on Good Morning America on Monday.
"I was hands on with making sure that she really looked like a dancer and looked like me," Copeland told Robin Roberts. "She has muscles and calves and thighs and a bust. That was important to me … It's beauty and it's also: You can be a ballerina and look like this."
Last year, Copeland became the first African-American principal dancer in American Ballet Theatre's 75-year history. The Barbie doll, dressed in a fire-red bodysuit, wears the costume from Copeland's 2012 breakout performance in Stravinsky's Firebird — she danced through six stress fractures in her first starring role with the company.
The doll was made for the Barbie Sheroes program, which has created dolls to spotlight groundbreaking women like Ava DuVernay, Zendaya, and Emmy Rossum.
Copeland will wear Jason Wu at her first Met Gala tonight. She'll reprise the Firebird role later this month at the Metropolitan Opera House, on May 18 and 19.