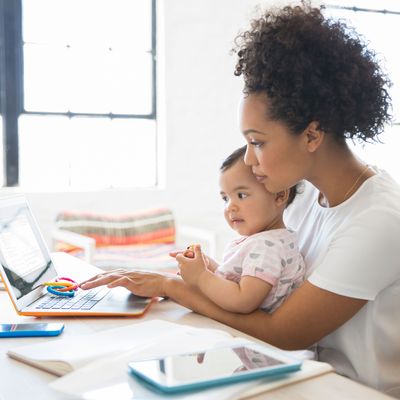 Exploring the motherhood penalty.
Photo: Caiaimage/Sam Edwards/Getty Images
With Mother's Day right around the corner, you would think the world would deliver some good news about parenting while female for once. Obama to give all new mothers $100,000! Having a baby increases likelihood of multiple orgasms during sex! Millennial children actually got their mothers the gifts they wanted for Mother's Day for the first time in history!
But no, being a mother in America is still a disrespected and thankless task — and it's even worse if you're the kind of mother who, you know, actually has to work to support her kids. New research from the National Women's Law Center shows that the motherhood penalty — the one where women's salaries are docked when they return to work after having a kid — is more real than ever. And the biggest victims are single mothers and women of color.
According to the NWLC's research, "Mothers who work outside the home full time, year round typically make only 73 cents for every dollar paid to fathers," while for African-American and Latina mothers the gap is even greater. For every dollar that white, non-Hispanic fathers make, African-American mothers make 53 cents and Latina mothers make 47 cents. The gender pay gap for African American women overall compared to white men is 63 cents, and 54 cents for Hispanic or Latina women, so having a baby makes a big gap even bigger. Single mothers, on a whole, make only 58 cents to a father's dollar.
The data that NWLC compiled is broken down by state, and it shows that even states with high median incomes are lagging behind when paying mothers fairly. Vermont has the smallest gap between mothers and fathers, paying women with children just 16 cents below what men get paid, and Louisiana has the largest: There, fathers' median income is $60,000, and mothers get paid roughly $32,000, making for a pay gap of almost half a man's salary.
How to combat this disparity? It's the job of hiring managers to see that they are promoting and paying women fairly, but especially when women step away from work to have children. And when women decide to take a more extended break to be with their young kids, their experiences must be treated with dignity. And if all else fails, there's a new career site for women who want to get back into the workforce after an extended leave.