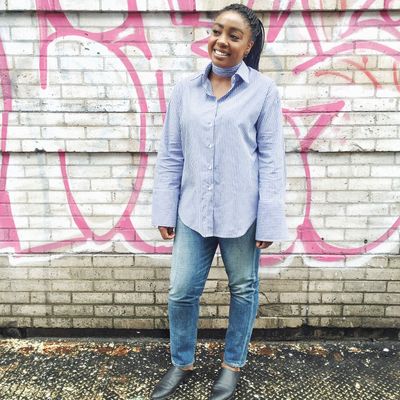 All I want right now are straight, non-slouchy, cropped jeans that hit perfectly at the ankle. But it's taking me quite a bit of work to find them. At this point, I've tried on about 30 pairs — that's 30 fitting rooms, and 30 times pulling them up and doing the wiggle dance to see if they fit over my butt. There's really only one upside to this research: At least I can now share it with the world. Read on for the six best cropped jeans I've found, and the tips and tricks I've learned along the way.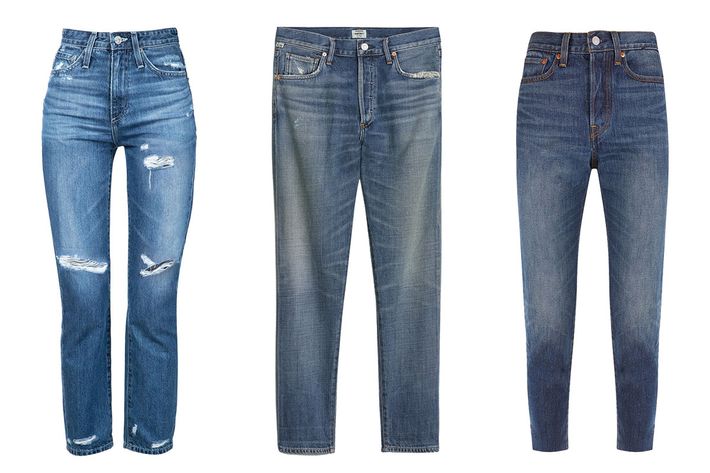 AG jeans, $245 at Farfetch; Citizens of Humanity jeans, $268 at Aritzia; Levi's Wedgie jeans, $88 at Levi's
Let's start with the basics. Whether you prefer raw, vintage, or stretchy denim in your typical jean, when it comes to cropped jeans, stay away from jegging styles. I love a good stretch, but this hybrid jean-and-legging style gives you no shape. They're super unflattering, and they won't fit right no matter how many you try on. (Trust me, I did the, ahem, legwork.)

If you're looking for cropped jeans with a tighter fit, try to find ones that have just enough room without clinging to your thighs. When you try them on, find somewhere to sit in the store, or just squat — people will look at you funny, but it's a small price to pay for well-fitting pants.
I found three winners in the tighter-fit category: AG's distressed cropped style, Citizens of Humanity's Liya jeans from Aritzia (which I'm wearing in the photo above), and Levi's Wedgie fit.

The Citizens jeans are made of vintage fabric, so they come with that lived-in feeling and a nice relaxed fit. I stand five-foot-three in flats, so you know that when I say they're one of the few pairs I tried on that perfectly hit my ankle, I mean it. I'm wearing them in the picture above with a top from Pixie Market. 

AG's style is one of my favorites to wear with anything because it's super-high-waisted, and the waist actually has a curve to it so I don't need a belt.
As for Levi's Wedgie jeans, you've probably heard about them, and they do live up to the hype — as long as you don't have a butt. I tried them on with a friend who said, tactfully, "Wow, your butt has never looked as flat as a pancake before, but it does now." But when she tried them on, they gave her a nice lift.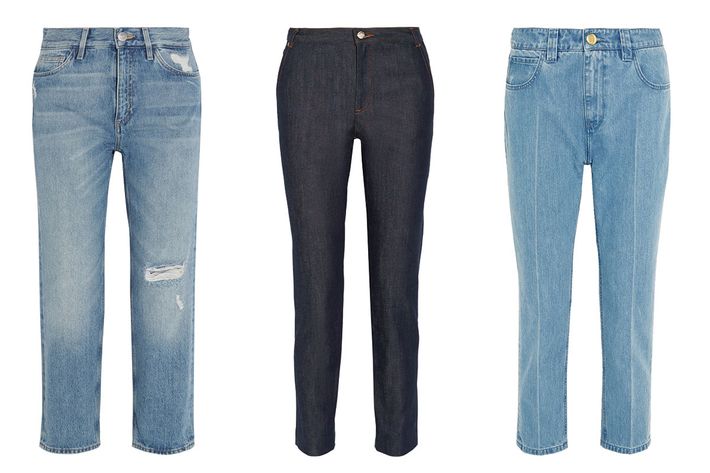 MIH jeans, $325 at Net-A-Porter, Vanessa Seward jeans, $280 at Net-A-Porter, Topshop Unique Jeans, $180 at Net-A-Porter
On the other hand, if you want a looser, more androgynous feel with your jeans, here's the trick: When you hold them up and look at them, examine how the leg is cut. You should be looking for a slim leg that doesn't taper, and maybe even subtly widens out at the end — but they shouldn't look like flares.

When buying a pair like this, I've found that it's sometimes easier to size up, to find a slightly looser fit. Just keep in mind that it can take a while to find ones that sit on your hips properly and aren't slouchy on the bottom.

A few favorites are MiH, Vanessa Seward's signature Japanese denim, and Topshop Unique. These MiH jeans I wear on rotation because they're cropped about two inches higher than the ankle, giving your shoes some room to shine. I actually went two sizes down on them, if that makes you feel any better about sizing.
Vanessa Seward's jeans are pricey, but if you're looking for a chic and clean pair of dark denim that you could literally wear every day, they're a good choice. And while Topshop jeans are always extremely tight, I found these pleasantly relaxed. They have a light bleaching streak on the front, with a crease that elongates the legs and gives you a more dressed-up look.